Your Guide to Choosing the Best Fixed Blade Knife
My #1 rule while going on a camping or hiking trip is to triple check whether I've packed a solid outdoor survival knife along with my belongings. Quite often I carry a spare knife just to be safe.  Two is one, one is none.  If you rely on just one knife, you have nothing if that one breaks or otherwise fails.
The reason why I do this and why I'm stressing this at the very beginning of this article is because there is absolutely nothing better than having a good fixed blade survival knife along with you in the outdoors.  While there may have been some huge developments in folding knives, for heavy-duty chopping, batoning, and bushcraft activities there is no replacement for a full tang fixed-blade survival knife
I always carry my fixed blade knife in my sheath and use it for a variety of purposes; right from shaving wood to cutting my way though foliage and then using it to skin game for my dinner. It's an indispensable tool and that's why no ordinary one will do. You need to have the best fixed blade survival knife along with you to make your life all the more easier in the unpredictable outdoors.
Why the need for fixed blade knives?
Fixed blade knives usually are full tang knives which makes them more durable as compared to folding knives.  Though you should tuck a quality folding knife into you pocket and/or pack as a spare, I recommend a quality fixed-blade.  A smaller knife than your large survival knife is likely to be better for small cutting and skinning tasks.
Most fixed blade knives have handles that are designed for a better grip and come equipped with finger guards to prevent you from cutting yourself accidentally. Also, most fixed blade knives are either straight edged or fully or partially serrated and the serration prove extremely helpful in tasks like sawing. Personally I prefer straight edge knives since I've found that they maintain their edge for a much longer duration as compared to serrated knives.  Sharpening serrations is a slightly more complex skill than sharpening straight blades.
Finally, fixed blade knives are capable of sporting a longer and thicker blade than their folded or multipurpose alternatives. This helps in activities like camping or hiking and especially in tasks like cutting through undergrowth to sharpening staves for tents.  Also, most fixed blade knives have a hard pommel at the base of the handle that can be used like a hammer.  This is very useful for cracking shells, bending objects, and hammering posts and sticks into place when building a shelter.
Best Fixed Blade Knives on the Market
To save you the trouble, I've handpicked this list of the top 5 fixed blade knives and all of these have been personally used by me so they come highly recommended.
First up on this list of the best fixed blade survival knife is the Ka-Bar USMC Utility Knife. A handy utility knife with a 7 inch long blade, the USMC is a great handy tool with a flat ground edge that can easily be sharpened again and again.
Made of 1095 cro-can steel, this is truly a "Made in USA" knife (although the sheath is made in Mexico). The leather stack handle gives you an excellent grip even in slippery conditions and I've personally found the knife to be of perfect balance. The blade itself has a very sharp point with a sufficient curve (belly) that allows you to skin or dress game easily.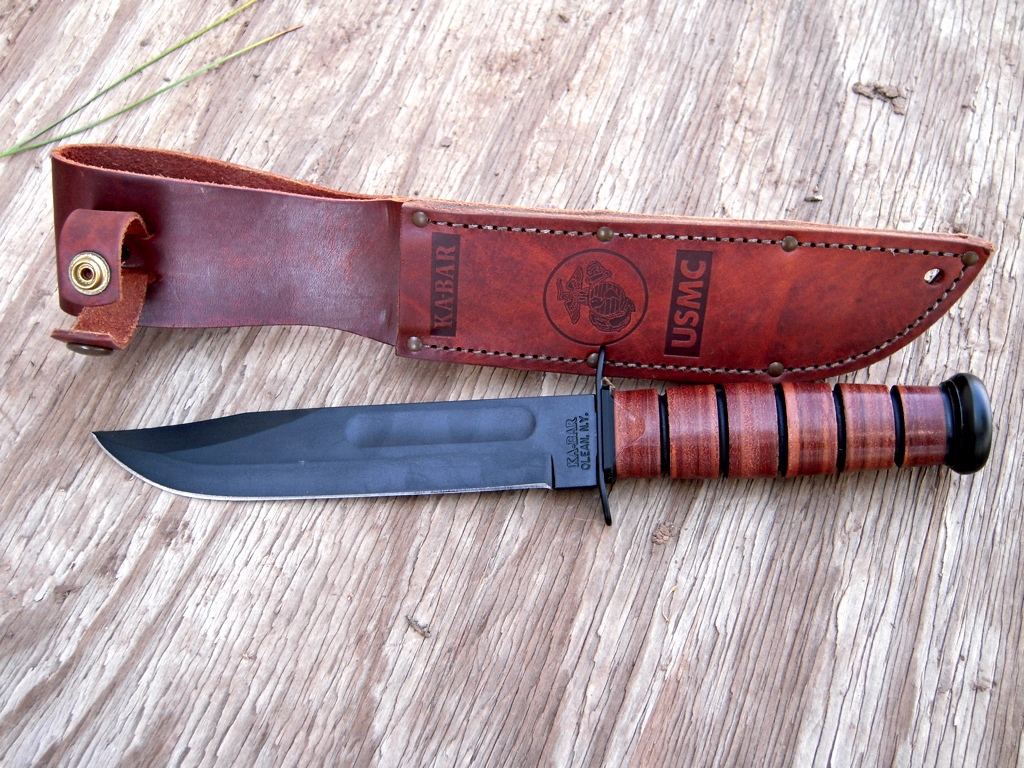 Click Here to see KA-Bar Utility Pricing, Ratings, and Reviews on Amazon
Don't let the amazing affordable price fool you. This knife packs a mean punch and comes highly recommended by all marines, both present and ex.
Another great fixed knife that makes it to this list is the Ka-Bar Becker BK2 Campanion and is one of the most ergonomic survival knives I've ever used till date. In fact, I even included this knife in my list of the top 5 bushcraft knives!
The Becker BK2 is one hunk of a metal tool with a thickness of .25 inches and almost as thick as the high-end Tom Brown Tracker. I personally loved the ambidextrous Kydex sheath that comes along with it and the knife easily snaps into the sheath without any effort.
Click Here to See Pricing, Ratings, and Reviews on Amazon.com
Click Here to see KA-Bar Becker BK2 Pricing, Ratings, and Reviews on Amazon
Designed by the legendary survivalist and mountain climber, Ethan Becker, the BK2 is made from 1095 steel and is robust enough to serve your Batoning needs and for simply whack and chop tasks. A big contender for the best fixed blade survival knife under $100
With a double stitched and riveted sheath, the SOG Seal Team Elite Knife is another fixed blade survival knife that needs to be in your consideration set. This partially serrated, 7 inch blade is made from AUS-8 steel with a clip point finish with a comfortable handle that's made from glass-reinforced nylon.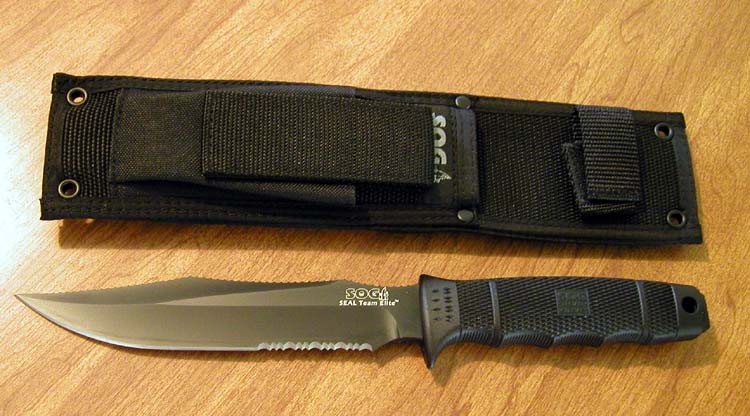 Click Here to see SOG SEAL Team Elite Pricing, Ratings, and Reviews on Amazon
The exposed tang at the bottom of the knife makes it pretty useful for strikes with a hammer or firesteel while the ribbed back is useful for those who prefer notching. The blade itself has an extremely large cutting surface with sharp serrations on the side that cut with ease.
All in all, a great hunting and camping knife that is super rugged and easily one of the top picks when it comes to fixed blade survival knives.
I am a fan of SOG knives in general.  I carry one of the SOG Flash II folding knives in my pocket everyday.
This stainless steel AUS 8A rescue knife has been with me for over a year now and truly is one of the top contenders for the title of the "best fixed blade survival knife"! Cold Steel has over time built a solid reputation when it comes to knives and the SRK is no exception to that.

This all round utility and fighting knife opens everything from oil drums to M&M's and can slice through rubber and plastic with consummate ease. The subtle clip point adds the perfect balance to the raw power of this knife and personally, I've found this more elegant that other similar knives such as the Ontario and the Ka Bar.
The Krayton handle works great when it comes to greasy conditions and the single guard is a huge help in keeping your hand out of the blade. I did feel that the Cold Steel SRK was a little thick for tasks like skinning and caping, but in the end it did do a good job.
All in all, a tough combat cum survival knife and with the current sale price on Amazon, this one's a must on your shopping list.
Click Here to see Cold Steel SRK Pricing, Ratings, and Reviews on Amazon
And finally rounding up this list of the best fixed blade survival knife is the Fallkniven A1. I've reviewed the Fallkniven F1 in detail here but the A1 does make it to my list of top survival knives as well.
A top of the line knife, the A1 has just the right amount of weight and the black finish does help with the rust. I've used this to cut branches that were over 3 inches thick and managed it without breaking a sweat. Yes, this one's the most expensive of the bunch but that's because it's also a class above all the above knives.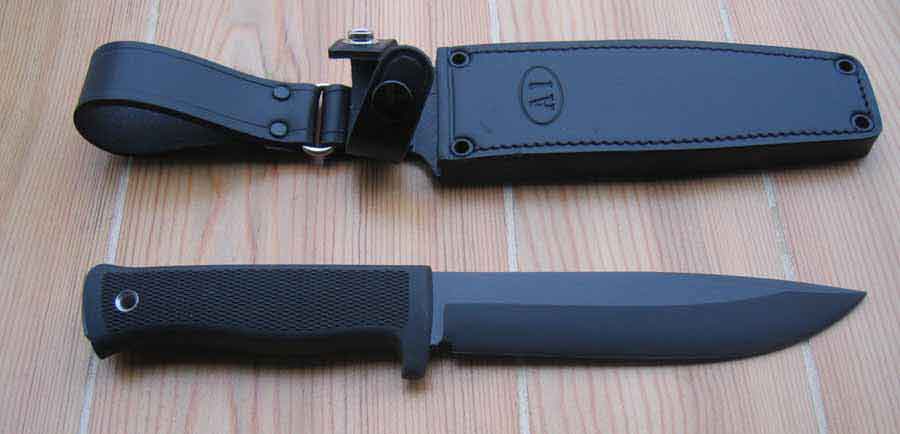 This knife is legendary in European military circles and I've even met several fellow military men who own this knife and swear by it. It's been used in the swamps of South Carolina to the Rocky Mountains and even in the hostile environment of Iraq and Afghanistan. A superb knife that you won't regret buying!
Click Here to see Fallkniven A1 Pricing, Ratings, and Reviews on Amazon