If you've owned a survival knife before, then chances are that there have been times when you've been in need of a good survival knife sharpener.
And why is that? That's because having a high quality survival knife is just the first step in the process because once it loses its sharp edge, then you should consider that your wilderness trip just took a turn for the worse. It's for this very reason that it's always a must to have a reliable sharpener along with you when in the outdoors.
This is especially true for situations when you're out hunting and you need a sharp blade for skinning and gutting. A good knife sharpener can help you blade re-gain its edge and you'll be able to use your hunting knife more efficiently. And for this to happen, you need to have a top quality survival knife sharpener that ticks all the boxes when it comes to compactness, durability and ease of use.
One of the key characteristics of a good survival knife sharpener is that it should be easily portable and be operable without electricity. It needs to actually sharpen a blade and not just hone it and in some cases you'll need a sharpener that can handle serrated edges.
With so many different types of knife sharpeners out there, it can be quite confusing and time consuming to choose the right one. That's why I've made your job simpler and come up with my hand-picked (and personally used) list of the top 3 survival knife sharpeners.
Note: Before you go on to choosing a knife sharpener, make sure you have a good outdoor survival knife as well. If you're looking to replace your old knife, you might want to consider reading my detailed reviews on some really good hunting and outdoor knives.
Top 3 Survival Knife Sharpeners
1. Smith's PP1 Pocket Pal Multifunction Sharpener 
#1 on this list of the best survival knife sharpeners is the Smith's PP1 Pocket Pal and this tiny tool does pack a punch.  It weighs less than 1 ounce, so you will hardly notice it is there and was truly designed with hikers, campers, hunters, fisherman, and survivalists in mind.  The Pocket Pal boasts a carbide sharpening stage for dull or slightly damaged knives that really need a new edge.  The carbide blades are for straight edged knives only, not serrated.  The next stage consists of ceramic stones that provide a polishing or stropping type action.  Both straight edged and serrated blades can be used on the ceramic stage.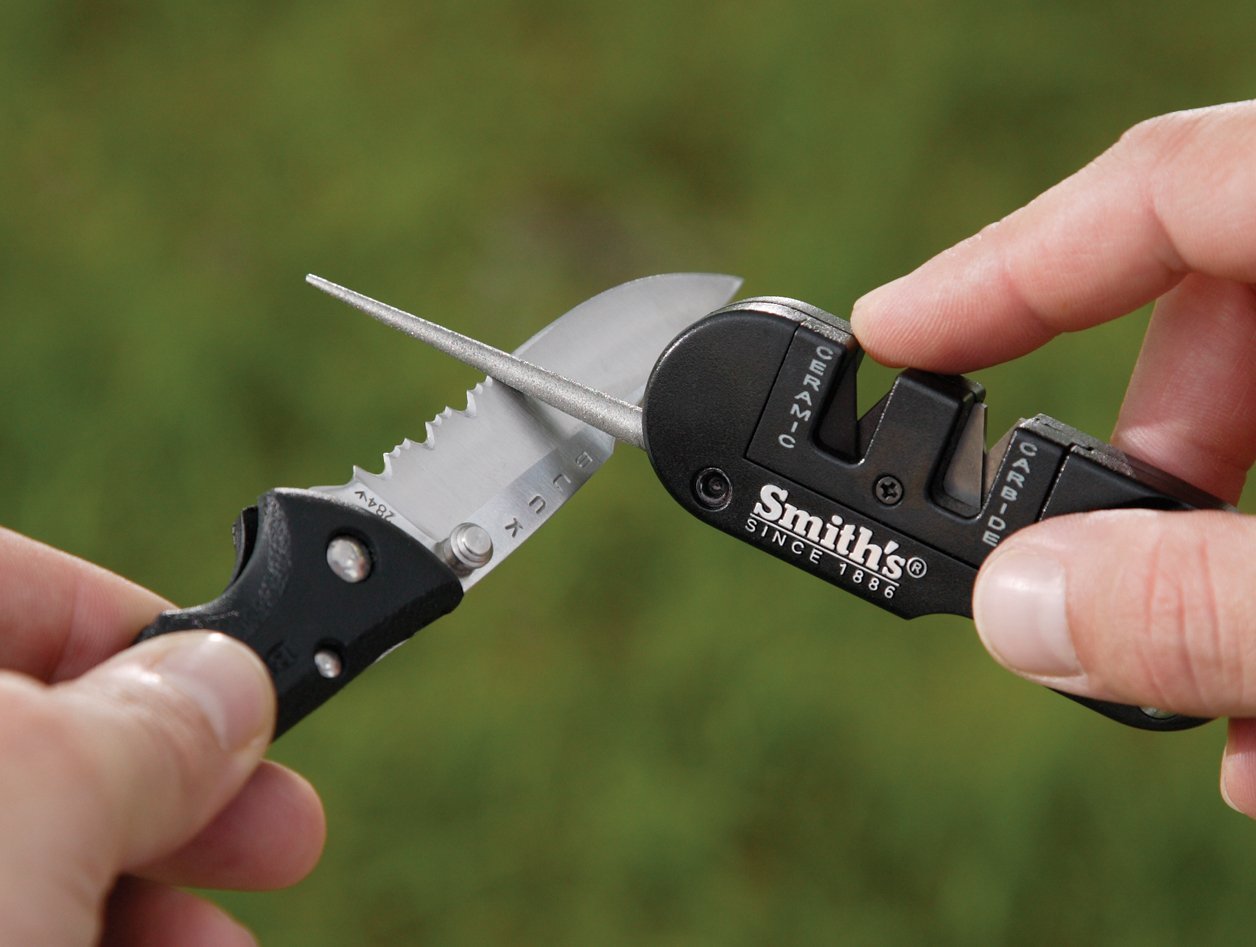 The Pocket Pal also have a round, tapered diamond coated rod for sharpening serrated and standard edges, pre-set carbide blades for quickly restoring a dull edge, and specially shaped ceramic stones.  The carbide blades and ceramic stones are reversible and replaceable for extended sharpening life.
The Smith PP1 has an excellent diamond coating on the inside and has excellent capability to sharpen and maintain the top performance of your beloved blades. Plus it doesn't weigh anything at all so you can carry it along everywhere you go.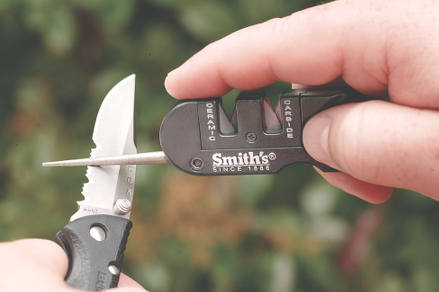 And if you still don't trust my word, check out the ratings of the Smith's PP1 Pocket Pal Multifunction Sharpener on Amazon and you'll see that it has over 1600 positive reviews with an average rating of 4.3 stars out of 5.
I usually do about 4 to 5 passes to ensure that my knife is sharp and has got back its edge and one can even use this for serrated blades. At a price of less than $7, this one's really a no-brainer and that's why it deserves it tag of the best survival knife sharpener!
2. Gerber Bear Grylls Field Sharpener 
2nd up on this list of the top survival knife sharpeners is the Gerber Bear Grylls Field Sharpener. Gerber as a company is renowned for its survival knives (read my review of the Gerber LMF II) and it doesn't disappoint one bit with the quality of its sharpener.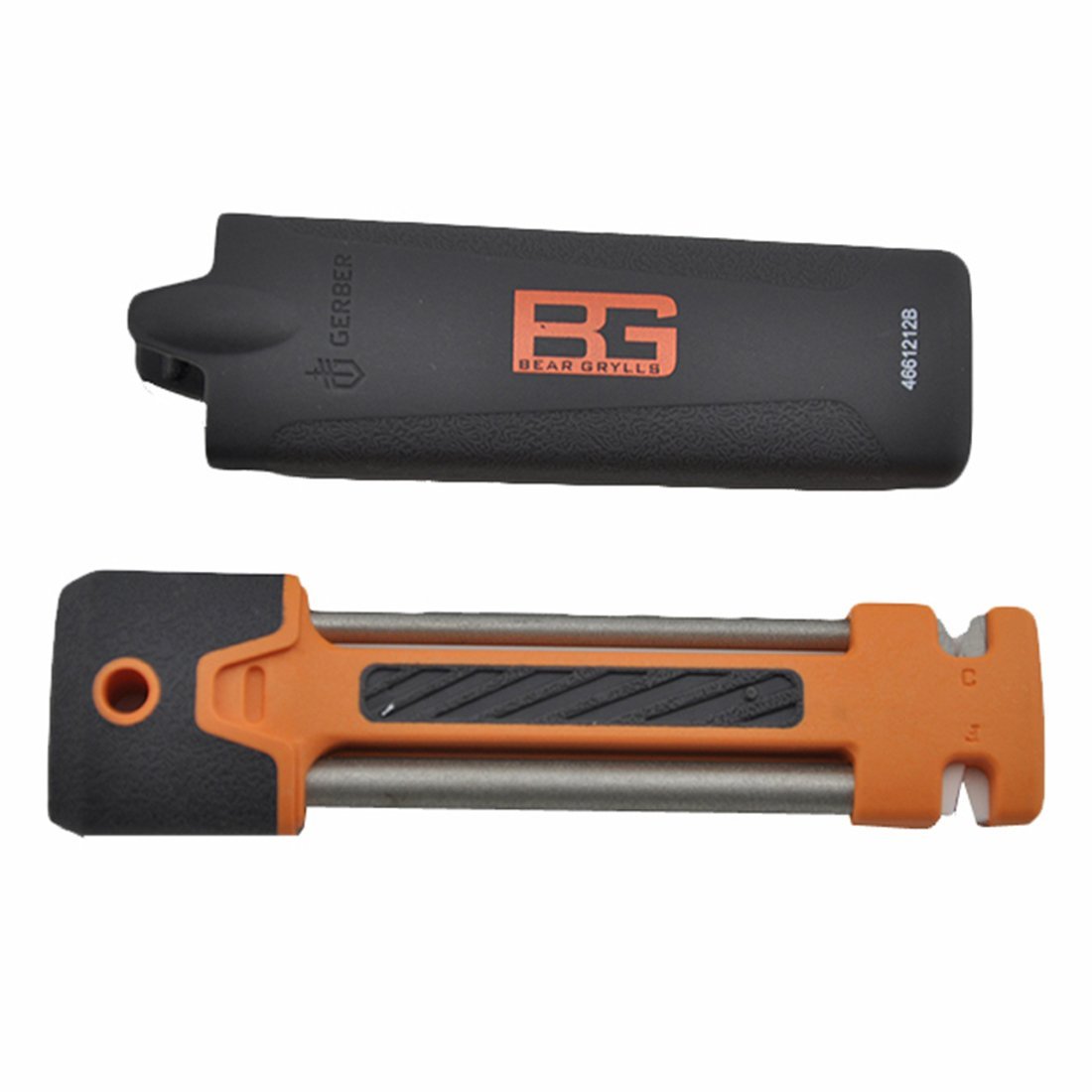 I really liked the fact that this one comes with a hard rubber handle because it's so much easier to work with during extreme weather conditions (think slimy, sweaty hands).
For those with serrated knives, don't sweat because you can easily sharpen those edges as well thanks to the two rod shaped diamond coated sharpeners and for a price less than $14, this one's a steal.
3. Edgeware Edge Grip Knife Sharpener 
And finally completing this list of the best survival knife sharpeners is one of the most affordable ones and something that you can get for just $10. The Edgeware Edge Grip Knife Sharpener is extremely simple to use and has a unique V-shaped bottom design that helps you easily mount the sharpener on any counter.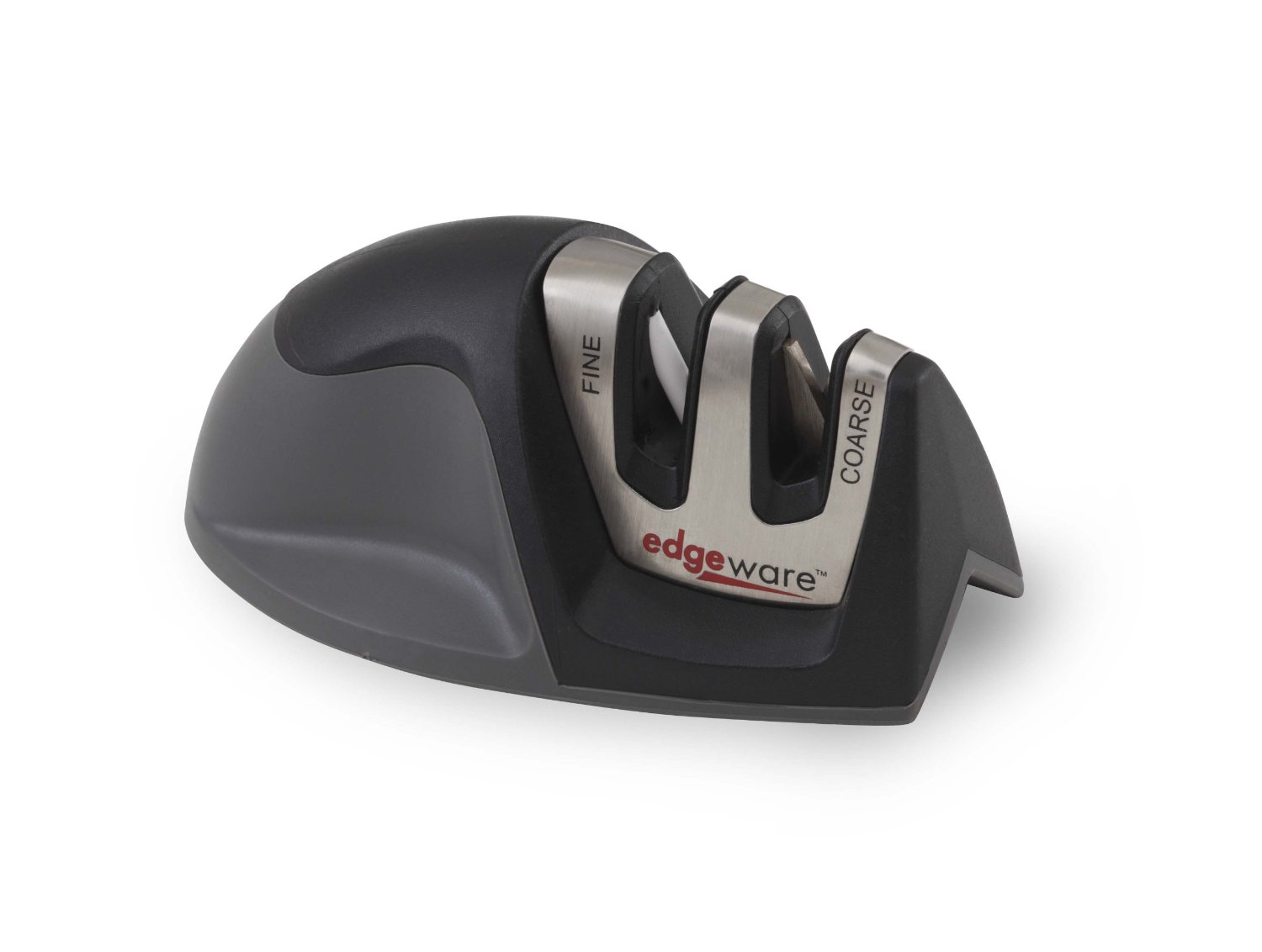 I also like the soft grip handle and it's comfortable to hold when sharpening those dull edges and at the price that it costs, it will surely fit anyone's budget!