The Eickhorn PRT XII Review – a pocket rescue knife made in Solingen, Germany
I borrowed this knife from a friend of mine in order to help fix the blade that he had managed to dull.  After sharpening it up again, I decided I should do a review of this purpose-built knife.
By purpose built, I really mean it.  Sold as a "Pocket Rescue Knife", this tool has a blunted tip, dedicated seat belt cutter, and a window smash tip.  The blade is partially serrated and is made from a hard and stainless steel.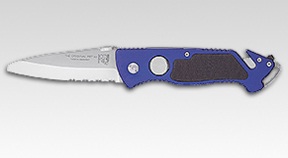 Though on paper this knife has all the tools and functionality that you would want in a knife that you might keep in your car, you should definitely read on to determine if it is the right investment for you.
Eickhorn PRT XII Specifications
Overall open length: 8″
Product Weight: 4.4 oz
Blade Length: 3.2″
Blade Thickness: 0.098″
Blade Steel: Böhler N695 Steel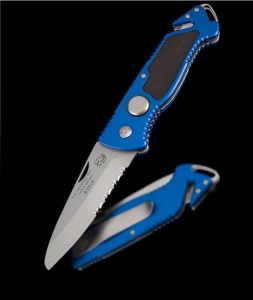 Click Here for pricing, reviews, and information on the Eickhorn PRT knife family
Blade Steel
The Böhler N695 steel is a lot like 440C – a very respected steel in the knife making industry.
The hardness rating of this material is definitely in the good territory with tests giving it a 58-60 Rc.
This makes it more difficult to get an extra sharp edge on the blade, but also makes this sharp edge more durable.
Here is the specification sheet from Böhler Edelstahl Co.  for the N695.
Blade Lock
The blade lock is a conventional liner lock.
It worked well for me while I was testing it, but I have never been a major enthusiast of this style of lock.
There is not a lot that I can say.  The lock didn't fail on me, but I am never going to call a liner lock perfect.  (I am a fan of piston and cam locks)
Durability and maintenance
Of course I don't own this knife, but I will comment on the durability of the knife.
I believe that the blade material is good, but unfortunately it did not survive what I want to call regular blade use.
The owner of this knife tried to turn a flathead screw ultimately bending the blade.  He then bent it back to straight but was unable to resharpen it using a conventional stone.
Only after using my Spyderco Sharpmaker was I able to put a sharp edge on it.  But in reality I should have taken off more material with a back bevel before setting the edge angle.
I think the blade should be reasonably durable with regular knife use, but unfortunately a blade has to be able to stand up to other uses to be called a "Survival Knife"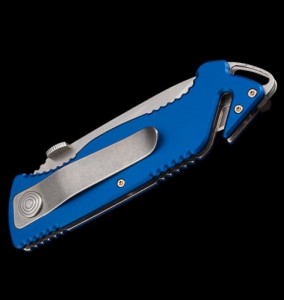 Click Here for pricing, reviews, and information on the Eickhorn PRT knife family
My Youtube Eickhorn PRT XII Review
A written knife review only goes so far, so I have started a YouTube channel to review the survival knives I get my hands on.
* BEING UPLOADED *
Summary
Though this knife has some strong points (most notably the hardness of its steel), I likely wouldn't buy it if I was spending my own hard-earned cash.
The seatbelt cutter is made of just cheap snap-off cutter blades.  A standard box-cutter blade would have been more reassuring and reliable.
No matter which way I tried, I found it difficult to use the window breaking tip without somehow smashing my hand.  Now I know that in a real situation hitting your hand is not a big deal (this is true, it sure isn't), but I have seen much better designs with the tip being located right at the bottom.  This lets you smash most any window with a standard hammer fist motion.
The blade was loose and wobbly, but I attribute this to my friend liking an easy opening folder.  However, if you don't Loctite it where you like it, it seems that this knife will loosen some on its own.
The pocket clip was not very well designed.  I prefer a pocket clip that allows the knife to sit very deep in your pocket (mostly so it won't fall out).  This clip is only good if you are keeping it is a pocket in your EDC bag.
Now it isn't all negative.  The blade steel really seems to be a quality material.
And it is made in Solingen, Germany –  this is always worth bonus points for any blade!
Don't forget to subscribe to my YouTube channel for bench top reviews, field tests, maintenance, and other survival knife discussions.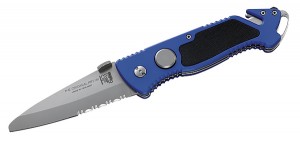 Click Here for pricing, reviews, and information on the Eickhorn PRT knife family
Do you own the Eickhorn PRT XII?  What do you think of it?
Is my unfavorable review just plain wrong?