Havalon Bolt: Steven Rinella's Hunting Knife
The Havalon Bolt is a versatile knife to use for your toughest jobs. Professional guides and hunters alike will enjoy the lightweight convenience and versatility of these knives. They weigh in at less than 6 ounces and feature a surgically sharp, durable stainless steel #60A blade to cut through your most challenging jobs.  This is the knife featured on the TV Show Meateater hosted by renowned hunter and outdoor author Steven Rinella.  If Steve uses it, it sure is good enough for me.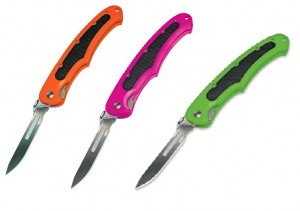 * Designed to accept thicker blades* Comes with standard black rubber grip inserts* Has a convenient liner lock for solid blade lock-up.
* Available in hunter orange for easy visibility
* Blade length: 2-3/4″.
* Over All Length: 7-3/8″.
* Closed length: 4-5/8″.
* Weight: 5.9 oz.
* Shipping Weight: 7.2 ounces
The Havalon Bolt Knife now has the capability to utilize thicker blades for all you heavy duty cutting tasks. The rubber grip inserts in the durable, tough ABS plastic handle give you a firm, solid grip even in wet conditions. The knife comes standard with versatile thumb studs that can be used easily for opening the knife with either hand. The handy liner lock provides a solid lock up for the blade. Also comes complete with its' own removable pocket clip for easy carrying options.
Click Here for pricing and detailed reviews on the Havalon Bolt Hunting Knife with 12 free blades
Pros:
Heavy, durable blades.
Extremely sharp and holds good edge.
Lightweight, easy to handle and carry.
Great for hunting and fishing.
Excellent for skinning wild game.
Blades are relatively cheap.
Cons:
Blade is stiff, need pliers to change surgical blades.
Some customers felt it was too small.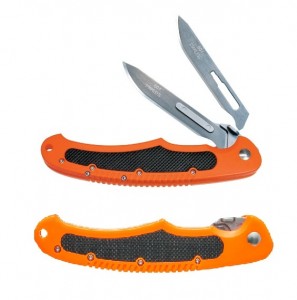 Click Here for pricing and detailed reviews on the Havalon Bolt Hunting Knife with 12 free blades
The Havalon Bolt Knife is an all around excellent quality knife one can use for skinning and deboning all sizes of wild game, including deer, elk, wild pigs, fish and much more. The surgical steel blade stays sharp through countless uses. Some hunters claim that everyone in the hunting party "borrowed the knife, because it stayed sharp and was a breeze to use. The cost for this versatile knife costs less than $50, and works as well or better than more expensive hunting knives. Available in blaze orange, grey or black.