One of the most prominent knife crafting centers in the world lies in a quiet corner of Germany in a city called Solingen. It's a city that's known to have produced master craftsmen over the years and specially in crafting high quality hunting and survival knives. One of the key manufacturers located there is Puma knives which is an integral part of this German culture of producing fine quality knives and tools.
That's why the Puma Bowie Knife is a master class hunting knife in itself. With an overall length of 11.5 inches, it also features a 6 inch California Clip Point blade that's made from 440C stainless steel. The blade has a hollow, saber grind and has a hardness of 57-60 on the Rockwell scale. What I also liked in the Puma Bowie Hunting Knife is the fact that it comes with stainless steel bolster that has naturally dropped, stag antler, handle slabs and a very fine made quality leather sheath.

I've used the Puma White Hunter knife before so if you look at it that ways, I have some experience with this brand and let me tell you, it screams pure quality. I still remember when we were young, a lot of old hardware stores carried a bunch of Case, Buck and Old Timer knives but there were a few special stores that had these German-made Puma knives on display. Boy, did I spend a lot of time gazing at those cases!
So when I bought this hunting knife, it was with a lot of excitement and expectation and thankfully, the knife did live up to its reputation. This 6 inch clip point blade is actually a very well designed hunting knife that's made from 440C stainless steel and has a good sweep and edge to it. I've used this against large game and believe me; the knife really holds its edge well throughout the entire process.
Another good thing about the Puma Bowie knife is that it's highly corrosion resistant, thanks to the 18% chromium content in it. And a unique thing about this knife is that it features handle slabs that are made from the antlers of a wild stag and this is done via a complex manufacturing process which makes this knife a truly unique one!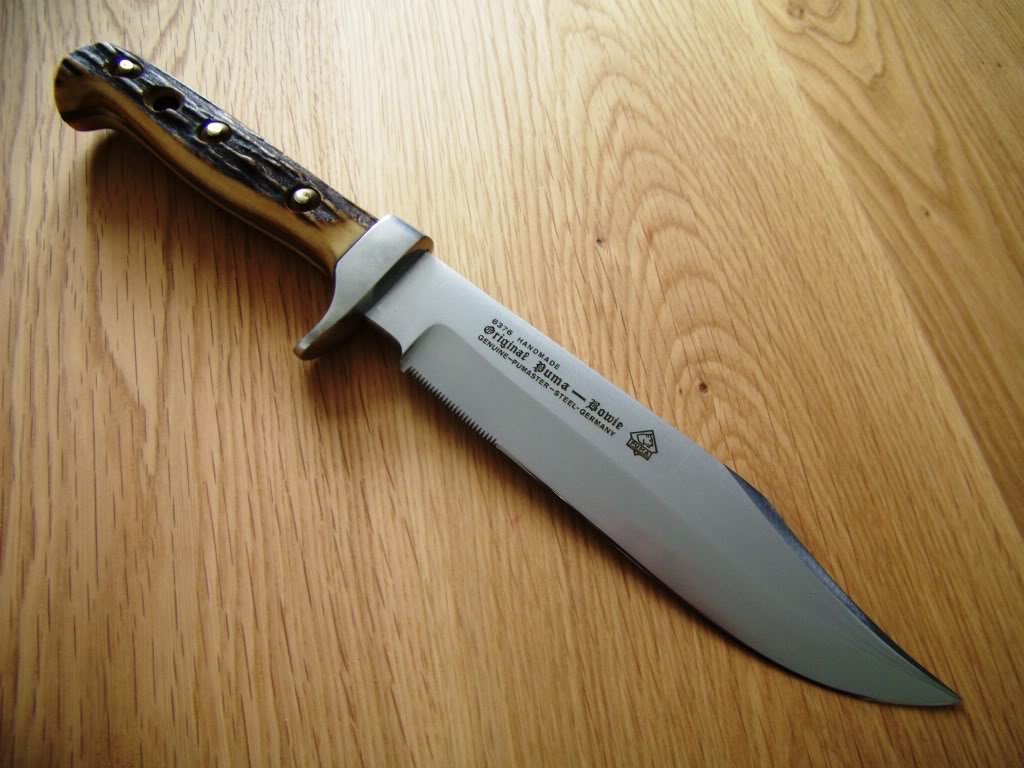 For those who're really interested in knowing how the above works, I've outlined a brief of the entire process below:
First, each scale is boiled, stabilized and dried over a period of weeks.
Next, the slabs are individually cut and hand fitted to the knife and brass rivets are then used to attach the scales to the tang.
Last, the rivet heads are filed and finally, the handle is burnished to a precise size and shape for optimal fit and function.
This not only makes the Puma Bowie a unique hunting knife but it's an example to all other knives out there as to what a quality hunting knife should be like.
I, for one, am really proud of my Puma Bowie knife. It might not hold the same meaning for a 8 year old boy longing for it, but Puma Knives are still made with the same quality materials, meticulous hand-craftsmanship, and acute attention to detail that they always have been.