What I carry everyday as my EDC Flashlight
In addition to quality EDC survival knives and a good first-aid kit, then next item you should have in your everyday carry bag is a high quality light source.
Whether in a wilderness or urban survival situation, a lot more of your day takes place in the dark than you realize.  If you're stuck in the woods you need to be able to see at night for navigation, building shelter, finding your gear, and looking out for dangers.  We all know this already.
But having reliable light with you is also necessary in an urban setting.  Imagine the power going out at work, can you see to get outside without bumping your head, tripping, or slamming your shins into something?.
If your tire goes flat or your engine dies, do you have enough light to see what you're doing?
Dark stairwell, dingy basement, elevator w/o power, or confined spaces at work.  These are all urban "non-survival" situations where a good light will prove to be very beneficial.
If you are looking for a tactical flashlight, here is my selection guide
Here are my EDC flashlights:
I have had this flashlight for a little over a year now and I love it.  This gem has a permanent spot in my EDC bag right next to my Gerber Flik Multitool and my SOG Flash folding knife (when it isn't in my pocket).  It only comes out of the bag for me to use, or if it is going into a hiking bag.  I always want this around me.

Powered by a single rechargeable 18650 battery (or two no rechargeable CR123 batteries) it throws a lot of light from such a small package.
It has light outputs of 9, 40, 140, 400, and 740 lumens, along with a bright strobe and an SOS flashing mode.

740 lumens is a lot of light and will function well in a search mode.  9 lumens is perfect as a small map light without killing your eyes or looking like the north star giving away your position.
Switching between output modes is easy, but the only problem is you never know what mode the light is in when you first turn it on; unless you have a very strict regimen of programming it to either the highest or lowest setting.
Click here for Pricing, Information, and Reviews for the Fenix PD32 Ultimate Edition
Click here for the rechargeable battery
Click here for the battery charger
In addition to the flashlight above, I keep my trusty Petzl headlamp in my bag.  I have been using this unit for seven years now without a glitch.
Sure you can accomplish most light tasks with a good flashlight; the only problem is you have to use a hand to hold the light.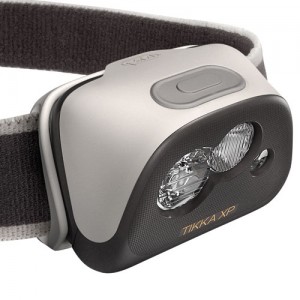 Have you ever changed a flat tire holding a flashlight?  Not fun is it?
Also, if you are hiking or walking for hours, it is better to keep your hands free for carrying extra gear or for self protection.
Another benefit of this model is it is powered by regular AAA batteries which are easy to find everywhere.  I run rechargeables through it but keep a set of alkaline AAAs around in case those batteries run out.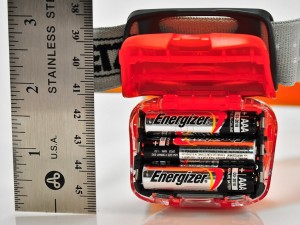 I also bought a red diffuser to slide across the light if I am working in situations where I don't want to ruin the night vision of others or myself.
It is difficult to find specifications on such an old unit, but what I have found is that the bust mode is around 40 lumens.  I much say this is a very impressive light at 40 lumens.
The updated XP 2 has a bust mode of 60 lumens as well as a built in red LED.  I will personally look into buying this one as a replacement since I am very happy with the performance of this original unit.  I have been on may hiking trips where I end up coming down the mountain in the dark.  I've changed tires.   And I've worn this for every camping trip.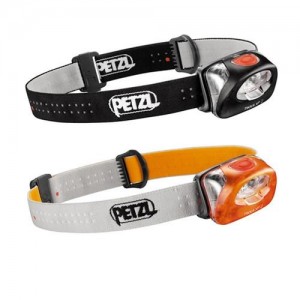 Click here for Pricing, Reviews, and Information on the Petzl E89 PD Tactikka XP Headlamp  This is the tactical version of my headlamp.
But I would highly recommend looking at the newer version Informaiton on the Petzl Tikka Improved Lumen Output Xp 2
Additional light sources that I have or want to add to my EDC and Emergency Bags
Of course I have matches and a lighter in my gear, but they are really only short sources of light.
A couple of tea light candles are something I may add to my bag in case I am holed up somewhere for an extended period of time in the dark.
Also, I have a few glow sticks in each bag, survival kit, first aid kit, and glovebox.  They are cheap and easy to use in an emergency situation.  Obviously not rechargeable though.
The real item I want to add to my EDC bag is a pen light.  This will make it so I am less worried whether or not I have my Fenix PD32 set to the lowest or highest setting.  If I just have to read a map or complete a small task, I can just go to the penlight.  They are small enough to keep in my pants or shirt pocket.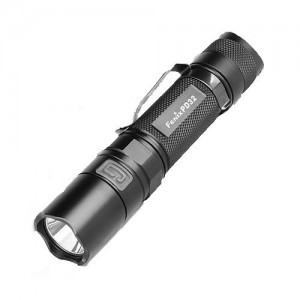 This is the unit I am currently evaluating for my EDC penlight: Streamlight 66118 Stylus Pro Black LED Pen Flashlight with Holster
Here you have a run down on my EDC flashlight options.  It is quite comforting to know that I have quality lights around me wherever I am – at work or in the bush.
How about you?  What flashlights do you have with you everyday?