A Navy SEAL Knife: SOG Desert Dagger
This is one of the first daggers that was made by SOG. It is actually one of older models that SOG came out with in the early days when the company first began. It also bears a resemblance to a government version as it bears a similar rugged type of handle and butt end that can conveniently be used to hammer when in the field. This knife offers a smooth attractive design, featuring a sleek blade with a single blood groove down the center of the steel blade itself. SOG also had a short limited run of a leather handled version of the same desert dagger knife as well.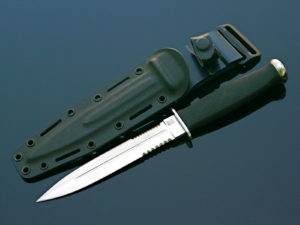 This amazing knife also gained notoriety and popularity, when it was featured in the movie "Kill Bill."  Uma Thurman used it in a action filled fight with Vernita Green. It was also used by Samuel L. Jackson in"Snakes on The Plane."  This much exposure for a single knife is a testament to its popularity.  Finally, in the book Damn Few by Rorke Denver, the Desert is one of two knives this Navy SEAL used while on real life special operations missions.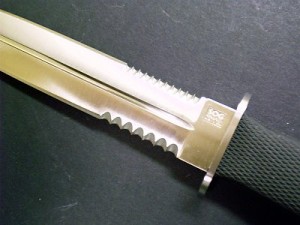 Click Here for pricing and detailed reviews for the SOG Desert Dagger
Overall Specifications:
Blade Length: 6.5 in. x .180 in.
Overall length: 12.0 in.
Blade Steel: AUS-6 Stainless Steel(Previous versions featured 440A steel)
Blade hardness: Rc. 57-58
Blade Finish: Satin-polished
Weight: 9.0 oz.
Edge:Double, serrated edge.
Carry System: Kydex sheath (Some early sheath versions were made fromnylon or condura)
Handle Material: Kraton
Knife Type: Fixed Blade
This knife has a straight forward design and offers a easy to grip, wrap around handle, blood grooves, crossguard cutouts, and straight edge. This knife comes in a dagger shape with a black oxide finish.
It has a black handle designed to fit smoothly into your hand and is made from a material called Kraton. It also includes an attractive black nylon sheath, complete with a belt loop attachment for convenient transport.
The cost for this knife runs roughly $25-50, if you are looking for a new knife, this may be your next purchase.
Click Here for pricing and detailed reviews for the SOG Desert Dagger