SOG SEAL Team – A knife developed specifically for naval special warfare
After being put through the most extensive and intense evaluation programs ever designed by the U.S. Government, the SOG SEAL Knife came out miles ahead of the rest, including but not limited to high quality knives made by U.S. cutlery manufacturers. The US SEAL team is one of the elite military groups known for the most intense, specialized training in the world today. SEALs are required to go through one of the most challenging training programs designed to produce the ultimate warrior.
Very few applicants make it through the rigorous training required to become a SEAL. Only a very select few, the most dedicated, earn the right to wear the symbol of the SEAL on their uniform.
It is here that the SOG SEAL Team knives were created for this very reason. When a SEAL team has a mission to complete, they have to be able to depend on their equipment, especially their knives.
So the SEAL knife had to go through extreme tests of it's own. The tests are exhaustive. They are tested for tip breakage, blade breaking limits, edge retention, sharpness, hammering, chopping, prying, penetration tests, the ability to cut through several different types of line and rope. Then to complete the testing, they are used in an extremely rigorous hands on competition out in the actual field/combat area.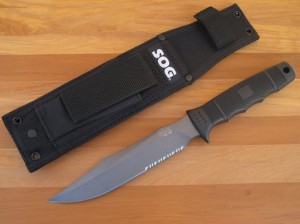 Click Here for pricing and detailed reviews on the SOG SEAL Team Knife
SOG SEAL Team Knife Specifications:
Streamlined new blade shape.
Knife measurements are Blade 7″ x .24 inches thick at the thickest part of the blade.
Overall knife length is 12.3 inches
Deeper finger grooves and an added spine rasp for thumb placement, notching, and filing.
Partially serrated, the fixed 7-inch AUS-8 steel blade has a clip point shape with a black powder finish.
The steel that makes up the blade has a HRC rating of 57-58 for optimum durability.
Black handle is made of durable, rugged, glass-reinforced nylon to fit comfortably in your hand.
Includes a black nylon sheath and includes a MOLLE attachment for carrying accessories.
Comes with a limited lifetime warranty.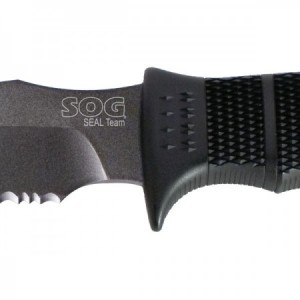 SOG products also have an extensive following, The knives have also won favor among military, law enforcement, and industrial customers that rely on their tools for exceptional performance in the toughest, most adverse conditions.
Customers say this is one of the best combat knives around, and definitely would not want to be without it, especially if one's life depended on it. They say you know that knife will pull you through every time.
Click Here for pricing and detailed reviews on the SOG SEAL Team Knife