Even though my site is mainly about survival knives, I do get a lot of mails and messages from my readers about pocket knives because in a survival situation, even a pocket knife is better than no knife!
And with so many hundreds of models of pocket knives out there ranging from $5 to $500, it becomes very confusing for a lot of people to know which the best pocket knife suitable for them is.
That's why I decided to create this mega guide (similar to my detailed survival knife guide) that will help you choose the winners among the huge range of pocket knives available in the market. I've tried my best to include all the information in one place and almost all of the recommended knives have been tested by me or have been put on this page based on recommendations from experts and survivalist friends.
Having trouble deciding which knife to buy?
Before I move on to reviewing the top 5 pocket knives, I decided to create this interactive chart of the top 25 popular pocket knives along with their important specifications such as weight, blade length, blade thickness etc to help you compare and make a better, informed choice.
Note – You can click on any of the columns to sort the data
| Make/Model | Price Range | Blade Length (in) | Overall Length (in) | Closed Length (in) | Weight (oz) | Blade Material | Avg rating |
| --- | --- | --- | --- | --- | --- | --- | --- |
| Kershaw Ken Onion Leek | $ | 3 | 7 | 4 | 2.9 | 13C26 | 4.7 |
| Benchmade Mini-Griptilian PlainEdge | $$ | 2.91 | 6.78 | 3.87 | 2.56 | 154CM | 5 |
| Benchmade Mini-Griptilian Combo Edge | $$ | 2.91 | 6.78 | 3.87 | 2.56 | 154CM | 5 |
| Buck 110 Hunter | $ | 3.75 | 8.75 | 4.875 | 7.2 | 420HC | 4.9 |
| Spyderco Tenacious | $ | 3.375 | 7.75 | 4.438 | 4 | 8Cr13MoV | 4.7 |
| SOG Flash II | $ | 3.5 | 8 | 4.5 | 3.1 | AUS-8 | 4.6 |
| Chris Reeve Sebenza Large | $$$$ | 3.625 | 8.335 | 4.75 | 4.7 | S35VN | 4.8 |
| Benchmade 581 Barrage | $$$ | 3.6 | 8.35 | 4.75 | 5.2 | M390 Super Steel | 5 |
| Spyderco Junior | $$$ | 3.22 | 7.25 | 4.125 | 2.9 | VG-10 | 5 |
| Benchmade Griptilian | $$ | 3.45 | 8.07 | 4.62 | 3.82 | 154CM | 4.9 |
| SOG Pentagon Elite | $$ | 4 | 8.75 | 4.75 | 4.3 | VG-10 | 4.9 |
| Spyderco Sage Carbon Fiber | $$$ | 3 | 7.125 | 4.18 | 3.2 | S30V | 4.9 |
| Spyderco Salt I | $$ | 3 | 7 | 4 | 2 | H1 | 4.9 |
| Benchmade 585 Mini Barrage | $$$ | 2.91 | 6.91 | 4 | 3.4 | 154CM | 4.8 |
| Benchmade 950 Rift | $$$ | 3.67 | 8.27 | 4.6 | 4.8 | 154CM | 4.8 |
| Benchmade Sibert Adamas | $$$ | 3.82 | 8.7 | 4.88 | 7.7 | D2 | 4.8 |
| Buck 505 Knight | $ | 1.875 | 4.625 | 2.75 | 1.5 | 420HC | 4.8 |
| Gerber 06079 | $ | 3.75 | 8.5 | 4.96 | 5 | 420HC | 4.8 |
| Kershaw Shallot | $$ | 3.5 | 7.875 | 4.65 | 4.4 | 14C28N | 4.8 |
| Spyderco Dragonfly | $$ | 2.25 | 5.5 | 3.19 | 2 | VG-10 | 4.8 |
| Spyderco Endura4 Lightweight | $$ | 3.75 | 8.75 | 5 | 3.6 | VG-10 | 4.8 |
| Spyderco Manix 2 | $$ | 3.375 | 8 | 4.625 | 5 | 154CM | 4.8 |
| Spyderco ParaMilitary | $$$ | 3.09 | 7.875 | 4.75 | 3.75 | S30V | 4.8 |
| Spyderco ParaMilitary 2 | $$$ | 3.44 | 8.28 | 4.81 | 3.75 | S30V | 4.8 |
| Spyderco Sage Titanium | $$$ | 3 | 7.125 | 4.18 | 3.5 | S30V | 4.8 |
This table includes both fixed and folding pocket knives. I have not mentioned the price against the knives simply because prices change frequently based on availability and promotions. But generally speaking, this is the criteria that I've followed in the above table: $ = under $40, $$ = $40 to $100, $$$ = $100 to $200, $$$$ = $200+
My List of the Top 5 Recommended Pocket Knives
Based on personal experience and after speaking to a number of experts and survivalist friends, this is my list and review of the top 5 best pocket knives.
1. Kershaw Leek by Ken Onion
Not only is this my #1 choice for the best pocket knife out there, I've also included this in my top 3 hunting knives list because it really is one of the top tools in the market at the moment. Designed by the famous knife maker, Ken Onion; the Kershaw Leek uses a patented SpeedSafe system that helps with a smoother single hand deployment. Not many knives can claim to be the same!
With a blade length of 3 inches and an overall length of 4 inches (when closed), this pocket tool is made from Sandvik 13C26 stainless steel and weighs just under 3 ounces. Not only does it offer a good balance, the knife itself is corrosion resistant which makes it much more suitable to outdoor tasks. Like I pointed out earlier, it comes with the speed assist option which is a great but in addition to the traditional thumb stud it has a spot on the back of the blade which allows you to use your index finger to deploy the blade.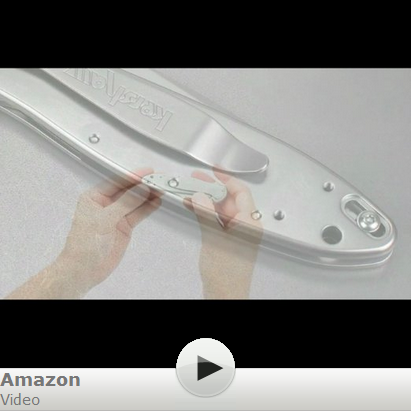 The only annoying point I found about this pocket knife was that it attracted a few too many fingerprints on the steel scale and the fact that the tip of the knife is pretty delicate which means no using it for heavy tasks (not that you should because then it wouldn't be a pocket knife).
All in all, with a price point of under $50 and a 4.6 star rating on Amazon, you really can't go wrong with this knife.
2. Benchmade 556 Pardue Mini-Griptilian Manual Folding Knife
With a blade length of 2.91 inches and made from 154CM Stainless Steel, another favorite of mine makes to this list of the top pocket knives at #2. The Mini Griptilian is an excellent EDC knife that I've used regularly for the past few years and found to be extremely versatile.
It features a drop point blade and comes with thumb studs which make opening the knife a breeze. It also uses Benchmade's AXIS lock mechanism which uses a tiny spring loaded steel bar that shifts forward and back into a special slot cut into the liners and engages a notch machined into the tang section of the blade when opened. Another handy feature is that the point clip can be reversed and is a boon for ambidextrous people like me.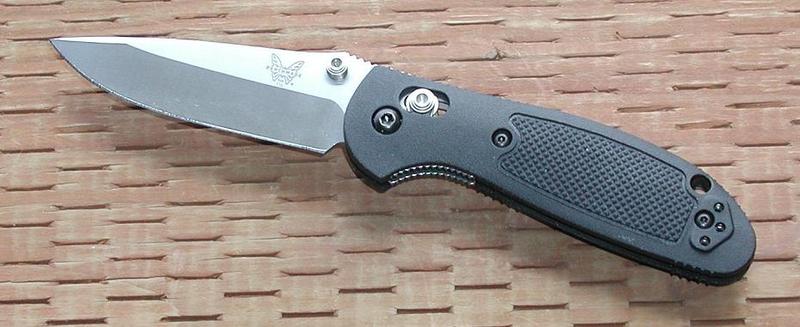 So whether is hiking or camping or canyoning, you'll want this knife to be by your side because it retains its edge extremely well. For less than $100, not only will you own a great pocket knife but you'll also spread some happiness because Benchmade donates a portion of the profits from the sale to the Oregon Health and Science University Breast Cancer Institute in Portland.
3. Buck 110 Folding Hunter Lock-Back Knife
One of the most iconic knives ever made and the most popular lock-back knife in my opinion, the Buck 110 is truly one of the best pocket knives available at the moment. I still remember my dad using the 1st version more than 30 years ago and since then, the knife has only gotten better with future iterations.
I've actually yet to come across a knife that has a better rust resistant body than the Buck 110 thanks to its 420HC rust-resistant steel. The nail notch lock-back design makes it very easy to open and close while the 3.75 inch stainless-steel clip blade is one of the sharpest you'll ever find. The polished brass bolsters and wood grain handles only add to the appeal and the fact that all Buck knives come with an unconditional lifetime warranty makes it a great bargain.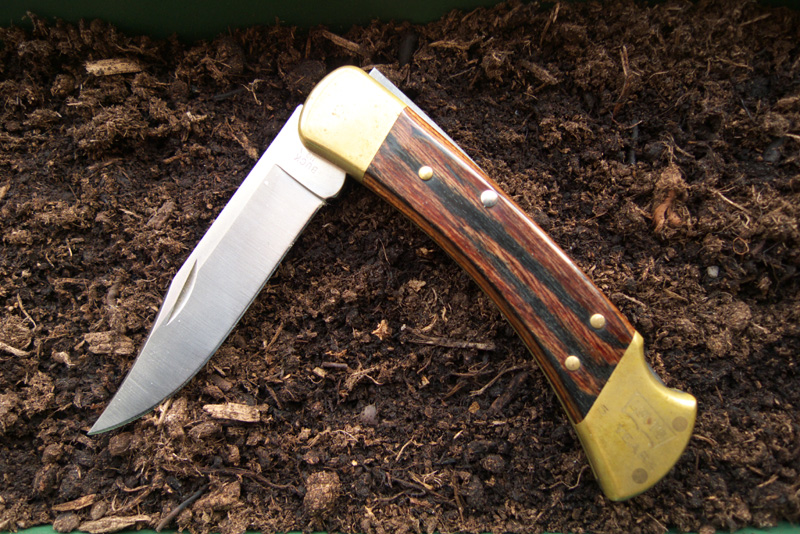 You really need to be careful while closing the knife because the blade is so sharp; I've seen numerous people getting cut. It's not savvy and sexy like the above two knives and you may require two hands to open it but there's no doubting the quality and balance of the Buck 110.
All in all, at a price of less than $70 (not including the discount on Amazon), this one should definitely be on your shopping list.
4. Spyderco Tenacious G-10 Handle Folding Serrated Edge Knife
Another tried and tested knife that I would personally recommend is the Spyderco Tenacious G-10 that is ergonomically sound and overall, a great value for money knife. An EDC knife that also serves as a tactical tool, the G-10 Tenacious features a 3.39 inch blade with an overall open length of 7.76 inches.
The serrated blade is made from 8Cr13Mov stainless steel while knife is instantly recognizable thanks to its black G-10 laminated handle that is milled to provide prolonged fatigue-free cutting.  Again you need to be careful while handling this because the blade is super sharp and I've accidentally cut my thumb once or twice without applying any real pressure.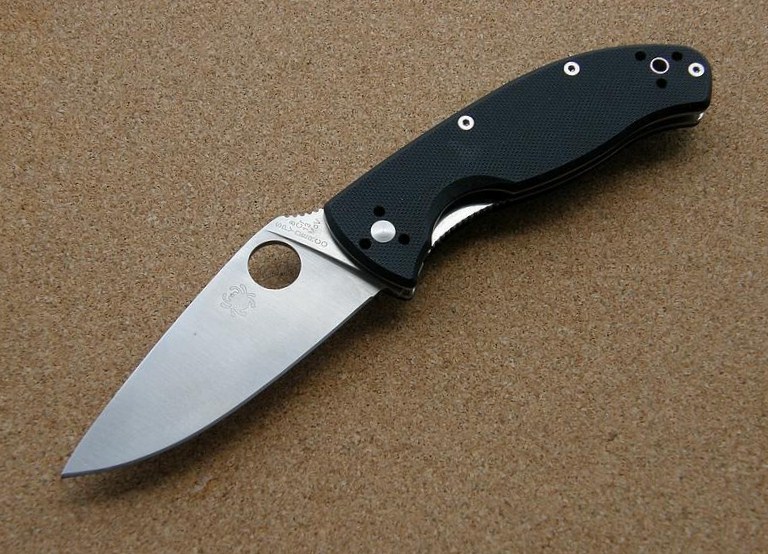 I found the size and weight to be perfect for me and found it really comfortable to use while cutting the baling twine on some hay bales. Instead of the usual lock back, you'll see that this pocket knife comes with a more easily operated liner-lock.
At under $50, this is a great tool to have for your collection but remember, you need to be extremely careful while closing the blade because this really is one sharp knife!
5. SOG Flash II FSA98-CP
I own many survival knives made by SOG and the one thing I've found is that the company never compromises on quality. Sure, they might not have the cheapest knives but they ensure that all their knives are of the highest quality. The SOG Flash II FSA98-CP is no exception and this partially serrated, 3.5 inch drop point blade, is made from AUS-8 steel.
Like some of the above knives, this one too comes with SOG's proprietary spring assisted technology that makes the knife incredibly easy to handle in a wide variety of situations. It has a great clip and is incredibly sharp out of the box and retains its edge even after a lot of abuse.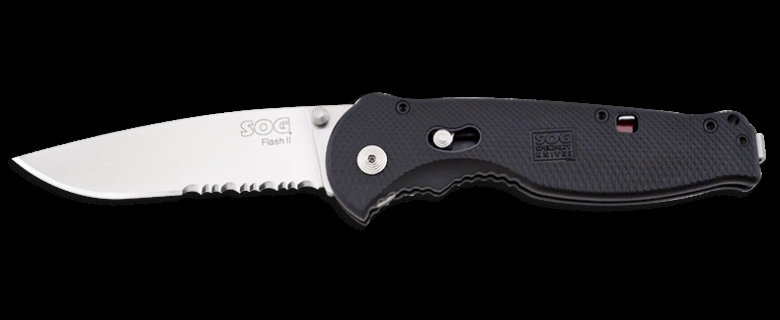 The handle is made of glass reinforced nylon but surprisingly, that doesn't add to the weight of the knife at all and I was able to perform swings without any issue. There is a thumb nub on the SOG Flash II FSA98-CP but a small bit of pressure on this thumb nub will release the blade spring.
Go for it if you're on a budget of less than $50 and you won't be disappointed!
Are you still in a dilemma in choosing the right knife to buy?
I understand your psychology because I'm sure you must be thinking, "How can I get the best pocket knife? It's impossible for me to pick up one among this huge collection!" I was also in this situation before and frankly speaking, it's really a tough job to find out the real best knife.
You see, today's market is flooded by thousand kinds of knives. They are absolutely different from one another and also used in different purposes. We are not saying that all of them are of high quality; there are also knives of low quality and price. But still, even after rejecting the low quality one, you need to take the test of choosing one ultimate knife from hundreds of excellent ones. From Swiss Army knives, single blade, 2, 3 and 4-blade, barlow, jack knives, lock blade, canoe, camper, multitool etc., you will just find yourself lost among these various kinds. If you even can select a type, you will again be trapped by a large range of choices: traditional or tactical, steel types, blade size, synthetic or natural, blade is locking one or not and so on.
That's where I come into the picture!
Just have a glance at my huge interactive chart of pocket knives shown above. This chart shows you some key points that will help you in narrowing down to the perfect knife. At the very first time, when you will see plenty of knives around you. So, if you want to get rid of this puzzle, my chart and the reviews will definitely show you the way.
What are the features of a Right Knife?
You must be curious, what are the features that get priority in being considered as the best pocket knife? Let's discuss below:
Blade – the Core Concern of a Knife
Blade serves the main purpose of a knife. Without a fine sharp blade, a knife is valueless. A dull blade knife can only be used as a toy for your kids, nothing more than that! So the knife makers make each and every knife with great care and efficiency. Their consideration includes material of the blade, its reaction under stress, resisting corrosion, how easily it can be sharpened and obviously its solidity. Also, specific steel is used to make a knife for the specific purpose. So, the materials of knives vary according to its purpose.
Significance of the Handle
Remember, a high quality handle must have some core characteristics; toughness, moisture-resistance and resilience. For example, G-10; it has a fiberglass based laminate that prevents water absorption. Apart from that, Titanium as a handle material is also becoming popular nowadays.
So, you are aware of the handle and blade factors. But, still you are not safe. Design plays a vital role in making a knife perfect.
Proper ergonomics ensures attractive design
The proper ergonomics is a must in making the knife altogether nicely designed and comfortable. Ergonomics ensures the suitable shape of the knife so that it fits in your hand well. All positivism and usefulness are worthless if a knife has poor design. So, we certainly expect a knife of quite a good shape from an efficient knife designer.
Value for Money
Purchasing things would never be so painful if there were plenty of money. But, unfortunately, most of us need to maintain the balance between price and choice. We all want a knife of maximum performance paying a minimum amount of money. For this reason, we give priority to the price of the knives. It is well-known that expensive knives are extremely popular in the market nowadays. But, you will be glad to know that, there are also a lot of knives that have reasonable price and high quality. So, it's pretty much possible to buy excellent quality knives staying within your budget.
Miscellaneous Considerations
You will be benefited if you consider some other things while purchasing your knives:
The Intention Behind the Purchase
Focus on your intention. First decide, for what purpose you are buying a knife. You are not surely purchasing a pocket knife for chopping mutton, right? So, decide if the purpose is cutting boxes, skinning deer or self defense. Keep it in mind, all folding knives are not meant to serve the same purpose.
Single or Multi-blade
Folding knives come in both single and multi-blade options. Consider popular manufacturers like Buck, Old Timer or Case. If you make a habit of having a variety of knives, then you can never be satisfied with one. If you are not a professional fisherman or hunter, then one multi-blade knife is more than enough for a beginner.
Size determines purpose
Large, medium and small; these are considered as three types of knives. The blade of a small size pocket knife measures not more than 2.5 inches. Their size is ideal for your small pocket and simple cutting works. Obviously, you are not going to cut big trees with it!
The length of a medium size blade is 2.5-3.75 inches. This knife size is the highest scorer in case of popularity. The measure of a large knife blade is over 3.75 inches. These kinds of large knives are best suited for huge tasks and are also governed by individual state laws.
Suggested Types of Blade
There is a huge variety of blades in the market that are used for different purposes. So, you may want to buy something against the intended usage. If you use it for a normal purpose, I would like to suggest a clip point or drop point blade. Apart from that, you have the freedom to choose a serrated, partially serrated or plain edged blade. In fact, except a sewing cut, a plain edged blade has expertise in all forms of cutting.
If you do not have heavy work, then a complete serrated blade is pointless. But at present, partial serrated blades are catching the attention of the customers and becoming popular day by day.
Additional Thoughts?
I would love to hear your thoughts on our top pocket knife picks. Feel free to inform us if you have any suggestions relating to any additional pocket knife that I may have missed out on.