The Benchmade Adamas Sibert 275 knife was originally designed by Shane Sibert to honor the American soldier's bravery and commitment to their motherland. One of the best top quality survival knives, the Adamas Sibert 275 is a high quality knife that screams class and toughness in every aspect! Although, it isn't fully classified as a military knife, it sure looks like one in every respect and with a price tag of close to $165, this one's absolute value for money as well.
It's often described by experts and other reviewers as "one of the strongest and stoutest knives that Benchmade has made" and from a personal experience, I can vouch for its amazing balance and sturdiness. On top of that, I love the fact that it comes with a lifetime warranty so I don't have to worry about any unexpected mishaps to the knife.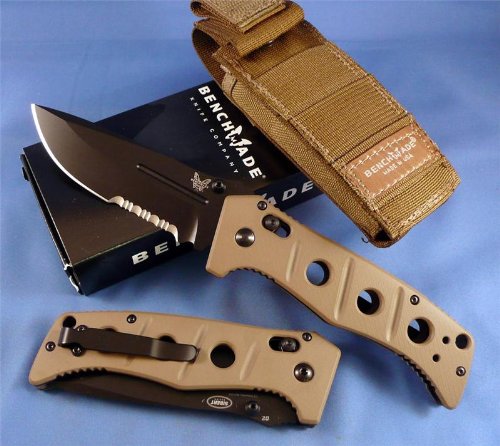 While falling under the Black Class category, the 275 Adamas Sibert has a 3.82 inch blade made from black stainless steel that is about 0.16 inches thick. This means that if performs very effectively in situations that require heavy tasks and is suited to situations where you need additional strength in your survival knife. Also it features a jimped thumb control that has proved helpful to me while making those finer cuts and more importantly, it also acts as a safety feature while making the heavy cuts.
The Benchmade Adamas Sibert 275 folder knife has an overall length of 8.7 inches and with the blade folded inside measures a good 5 inches while the overall weight of the knife is pretty decent at 7.7 oz. The knife also features a G-10 boxy tan handle with a length of 4.88 inches and comes fitted with a large axis lock that can be easily opened with one hand. Some of the people I've met and spoken to consider this knife to be a little heavy but personally I am ok with the weight considering the fact that the makers have designed it with three large holes drilled through to lighten up the knife a bit.
While the makers claim that the Benchmade Sibert 275 is rust and corrosion free thanks to the black coated BK1 stainless steel matte finish, I've seen that it's not always the case and the blade does tend to rust a bit of you don't maintain it properly. The Sibert 275 dons cone-shaped thumb studs that are supported by a sound stop pin and pivot mechanism for ease in opening.
I personally do like the MOLLE pocket clip pouch that comes along with this knife because it does help in preventing accidental opening so I would suggest you use it always while carrying the knife with you.
Pros and Cons of the Benchmade Adamas Sibert 275:
Let's also take some time out to discuss the pros and cons of this knife before rounding off this Benchmade Adamas Sibert review. While personally, I've found the knife to be pretty reliable for quick deployment and the steel to be of good strength, some of the people I've met and spoken to feel the 275 a little heavy.
While I'm not so fussy about the weight and didn't find it heavy myself, I do agree that the knife requires regular maintenance to prevent rusting but if used properly, even that is not very often.
This knife means "invincible" in Greek and I must admit, it comes pretty close to that thanks to its ability to do an effective job. It also comes in a different model (serrated #275 SBKSN) that has a similar jimped thumb for making finer cuts. Another great and humane thing about buying this knife is that Benchmade donates a part of the sale to the Ranger Assistance Foundation which I believe is a very good initiative.