The SOG Jungle Warrior isn't just a knife; it really is a true warrior.
With its Kraton handle, featuring SOG's trademark Digi-Grip texture, the Warrior guarantees gripping power wherever and whenever it is needed.
The length of the SOG Jungle Warrior blade is 9.75 inches, and 15.25 inches is the overall length.It weighs 19.4 ounces and the blade thickness is 0.19 inches.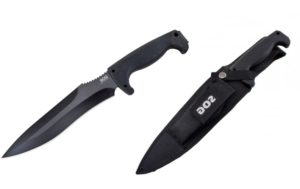 This formidable knife is manufactured of 8Cr13MoV steel and has a nice-looking black oxide finish. The fixed blade possesses a drop-point shape, which sharpens effortlessly, making any task much easier.  8Cr13MoV steel is extremely capable steel with no real weaknesses, which is somewhat unique. It runs about one point harder than most comparable types of steel, adding to its edge stability; and the hardness rating is RC. 56-58.
Click Here for pricing and detailed reviews on the 15-1/4-Inch SOG Jungle Warrior
A lanyard hole at the base of the Kraton handle makes carrying it from your belt when embarking on hunting trips or other expeditions a simple task. Also included with the SOG Jungle Warrior is a black nylon sheath complete with a belt-loop attachment and a closure featuring a loop and hook. The sheath is sufficient for keeping the knife close and safely protected.And, one more important feature of the SOG Jungle Warrior is that it comes with a limited lifetime warranty.
The SOG Jungle Warrior has proven to be a cross between a survival tool and a good-sized fixed tactical knife with its thick blade making it easy to perform tasks like slicing, hacking, digging and cutting. The blade shape also makes it a good fit as a fighting knife when necessary. It's an amazing knife for all types of camping and survival situations. It's known for being fearsome-looking, well balanced and deadly sharp.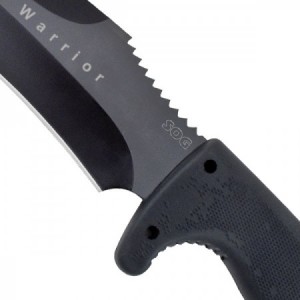 For any of you who are not yet familiar with SOG, the legend actually started in Vietnam. MACV-SOG was a United States special ops unit that was highly classified. Back then; SOG was short for Studies and Observation Group.MACV-SOG members were carrying a distinctive combat knife when engaged in covert missions in the jungle. In 1986, Spencer Frazer was a young designer who was inspired enough by that knife to become the founder of SOG Specialty Knives. It was his mission in life to be successful at paying tribute to those special ops members by reproducing that SOG Bowie knife from Viet Nam.  To this day, real men carry SOG knives into seriously challenging circumstances, knowing that they have been honored as the knife preferred by Navy SEALS, and that they're also US Army Special Forces field-proven.
Click Here for pricing and detailed reviews on the 15-1/4-Inch SOG Jungle Warrior