In my EDC kit: Gerber Flik Multitool
I always like to carry a multitool and this one is part of my everyday carry knife lineup.  But I often use my Gerber Flik Multitool when out hunting, fishing, hiking, or camping. I need my survival tools to be versatile and reliable and I wanted a multitool that is compact enough to fit inside a small pocket. This one is 4.4 inches when closed and it weighs just 8 ounces.  It fits perfectly into a pouch in the admin section of my 5.11 Rush Moab 10 bag.
Click Here for detailed reviews and pricing on the Gerber Flick
Features
The Gerber Flik Multitool has two knife blades, one with a serrated edge and one that with a fine edge. It also has a saw blade, scissor blades, V-cut wire cutters, small and medium flathead screwdrivers, cross point screwdriver, needle-nose pliers and sliding jaw pliers. It has a very practical can opener and a bottle opener, a ruler and a file.
All the tools are spring loaded and even the smallest ones are designed for easy opening.
A patented safety system, known as Saf.T.Plus, keeps each tool stay safely locked into place in the open position.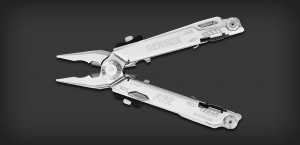 The strong stainless steel handle has a non-reflective black oxide finish. The Gerber Flik Multitool has a built-in lanyard ring and comes with its own lanyard. A protective ballistic nylon sheath is also supplied.
Pros and Cons
Tools can easily be opened with one hand. The pliers can be extended with just a flick of the wrist, and one hand can spring open a knife blade or access one of the other tools.
Each tool is held firmly by the safety lock, so all tools remains stable when in use.
The fine knife blade is very sharp. The serrated blade is not so sharp but it does have a blunted end which makes it easy to slip in behind any tightly bound ropes that need cutting.
Click Here for detailed reviews and pricing on the Gerber Flick
Value
Compared to the price of similar gadgets, the Gerber Flik Multitool is very reasonably priced. The amount of tools it contains, and the quality of its materials, make this one good value for money.
Functions
One of the reasons why the Gerber Flik Multitool is supplied to the US military is because it is usable with one hand. Also, the needle-nose pliers can be used to extract items from narrow spaces. This means it can easily be used to unblock a malfunctioning weapon.
The saw and the serrated knife blade can be used for tasks involving cutting and sawing. The fine-edge blade is sharp enough to cut through raw meat and is also good for gutting fish.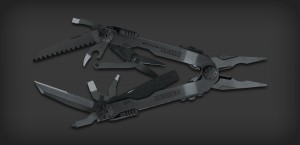 Other tools come in handy for any tasks that involve wire cutting, screwing and unscrewing, removing bottle tops or opening cans.
I would not want go anywhere without carrying a reliable multitool. I like the Gerber Flik Multitool because it it's so tough and versatile, with tools ready for use at a flick of the wrist. The quality of this multitool also makes it good value for money.
Click Here for detailed reviews and pricing on the Gerber Flick