Everyday Carry – What are my EDC knives?
I certainly am a big fan of knives and it is hard to find me without one once I have left the house.
Usually I have two on my person (usually in my pocket), and 1-2 in bags around me.  I may even start to research neck knives since I think that's a great additional way to always have a blade on you.
A bit much?  Maybe – but I am a blade enthusiast like most of you are too.
This is my EDC pocket knife.  Though high quality and useful as a survival knife, it is exceptionally effective as an every day carry.
There are many combinations and configurations that you can get the SOG flash in, which I will review at a later time.  Tanto or drop point blade, straight blade or partially serrated, steel colored or black TiNi coated blade.
The locking mechanism on this is the best that I have found of any folding knife.  Opening and closing is a very smooth and safe operation and this knife is worn in after only a dozen cycles.
The assisted opening on this knife is perfect.  It works well all the time, and works very well with some practice.  Yes there is some spring loading to the knife, but not too much that you're worried about it snapping open into your hand or some other object.  Also, you don't want too much spring loading that it is of danger to those borrowing your knife and not used to it, or to provide too much restriction when closing the blade.  Also, with any form of assisted opening knife, you don't want it to attract too much attention from people around you.
Why did I choose the Tanto blade?  Well I thought the straight leading edge would give me some great precision in opening packages.  And let's face it, opening packages is a more likely use for your pocketknife than skinning game or making wooden spears.
Why the TiNi finish?  Well I do have a bit of a taste for the tactical look.  I think it looks cool for an EDC pocket folder.  It definitely gets some attention when I leaned it out.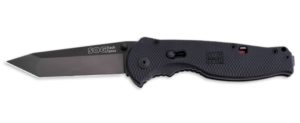 This is a great small knife that doubles as a money clip.
When folded it is the same size as most money clips, and indeed it does have a tight clip on it to keep your cash organized.  You do have cash on you at all times right?  Don't just rely on the credit and debit cards in your wallet, there are many circumstances where they won't work.  What better way to keep your bills together than with a knife.
EAB stands for Exchange-A-Blade and utilizes standard box-cutter blades.  Yes those cheap inserts that you can buy five of for a dollar.
But why do I need two knives in my pocket all the time?  Well the SOG Flash above is by far a superior knife.  But what if I am cutting simple items that could gunk up or dull my SOG blade?  say opening boxes or scraping tape off of a hard surface.
As soon as the blade is dull, throw it out and insert a new one.  Check it out, the price is great.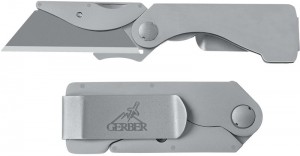 No I don't walk around with a full-size kabar strapped to me.  Well I do when I'm out hiking, but not when I'm at work.
This USMC fighting knife was my first substantial knife purchase and it is one that I still use to this day.  You will always find this in either my EDC Bag or an emergency/get-home bag in the trunk of my car.  It is hard to beat the value and versatility for money that you can get with this item.  Aside form the historic, iconic, attention grabbing look of the Kabar, this is a useful knife in any survival situation.  The heavy-duty full tang blade can take all the outdoor activities you can possible put it through: slicing rope, processing game, batoning wood, sparking flint, shaving spears, and of course any up close and personal hunting and personal defence that's required.  Ok this blade isn't all that great at processing game when you're out hunting – but this is a survival situation we're talking about here. The one I have is the 7" black clip point blade with the Krayton synthetic grip and the Nylon synthetic sheath.   A heavy duty fixed blade knife is a requirement in any bag: hiking, emergency, everyday carry, get home, trunk, or bug-out.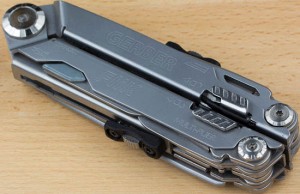 I have never been on the habit of carrying a multitool in my pocket.  I suppose I should get one of the small micro multitools that fits in the small watch pocket of your pants.
But my Gerber Multitool – a cherished gift from my wife I must add – is never far from me.  It has a dedicated pocket in my EDC bag that sits it right next to my awesome Fenix flashlight.
I like Gerber, Leatherman, and SOG multitools – and you can't go wrong with any of them.  They all have knives, saws, screwdrivers, scissors, files, pliers, can openers, bottle openers, and other useful tools in them.  No, none of those tools are individually as good as their full-size stand alone versions.  But having all that functionality with you all the time – even in your pocket – is great.  Being the person that can take care of a problem because of the knife in your pocket is a great feeling to have. Though I still have the fabric sheath that came with the knife, I don't keep it in it since I have a pocket in my bag that fits it perfectly.
Why do I like to have so many EDC knives on me?
Well a couple of reasons.
There's an old mantra in the survival community: Two is one and one is none.  That means that if you have two knives on you, in a pinch you can really only rely on one of them.  If you only have one on you, well hopefully you don't actually have to rely on it – you could be disappointed.  I have one mediocre blade (the EAB) and one good blade (the SOG folder) on me.  In my bag I have the real survival knife (the Ka-Bar) and a tool that happens to have a good blade on it (the Gerber multitool).  One their own, the EAB or the multitool would not make the best survival knives, but as EDC knives they work great.
I am an outdoorsman, a gear and knife junkie, and a student of survival.  I enjoy collecting, trying, and reviewing knives of all kinds.  Plus having a good knife on your when someone needs it is a great conversation starter.
I just plain like having blades on me when possible.  There is so much that you can do with a good sharp blade, some serrations, or a robust knife handle.
I have different blades to lend out depending on who's asking and what they want to do with it.  If someone wants to borrow it for a task that will dull or gunk up a blade, they get the EAB.
Knife Expert YouTube Video: My EDC Knives
Instead of just text discussions and reviews, I have now started a YouTube channel to help you decide on the best survival knife and other gear for your needs.
You can visit my channel here.  Please subscribe to be notified of new videos as I post them.
How about you?  What are your favorite EDC Knives?  Do you have something better to recommend to me?  I would love to hear about it in the comments below