To understand my in-depth review of the Helle Temagami survival knife, you'll need to re-visit a little bit of history associated with it. This knife production started way back in 1932 in an old forge near the home of the founding brothers, Steinar and Sigmund Helle. The knife soon became extremely popular among the locals and their fame spread to other towns. That's when the two brothers packed their bags full of knives and set off towards the east to set up the foundations of this modern day knife manufacturing company!
The surprising thing is that even today, most of the Helle knives are made manually in order to stick to the core philosophy of quality craftsmanship. That's why Helle knives are so cherished and sough after because of the extensive pride with which they are made and owned. In addition, each of their knives is specifically designed to meet the demands of the outdoor enthusiast and to last for generations.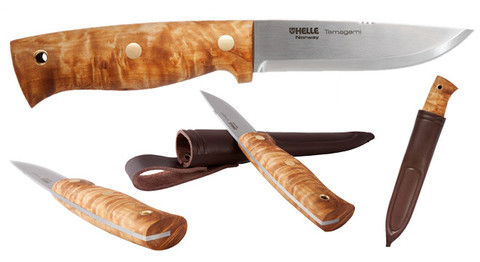 And that's why the Helle Temagami "full tang" knife is so sought after because apart from being of the highest quality, it's designed by the famous outdoor survivalist Less Stroud (host of the popular American show called Survivor Man). This 4.13 inch fixed blade knife is made of triple laminated stainless steel and features high carbon steel at its core. The core in turn is then surrounded by 2 layers of super tough laminated steel just like the original Japanese Katana swords.
This means that the Helle Temagami holds an extremely keen edge. And before you tell me that high carbon steel tends to brittle, I would like to point out that the designer overcame this by surrounding it with 2 laminated layers of stainless steel which in turn makes this blade sharp, tough and resistant to rust.
Another thing you'll notice about this survival knife is that the steel tang is exposed at the top as well as at the pommel end of the hilt. Instead, the handle is covered by burl Maple wood and also has a finger guard built in to protect your index finger during slippery conditions.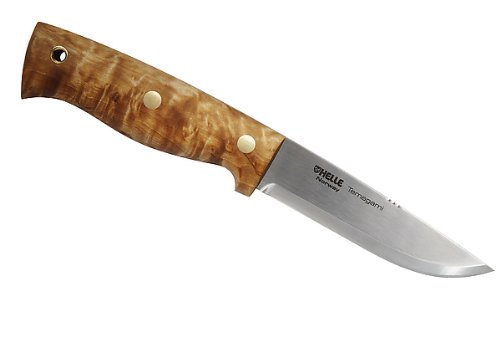 I find the this handle shape really suitable for my needs and personally, I also like the fact that the Temagami CA comes equipped with a Scandinavian style sheath which means I don't need to worry about securing my knife with additional straps or anything.
Thanks to the slight forward angle of the drop point of the blade, the knife gets additional cutting power while the straight edge combined with the sweep to the tip of the blade lends an exquisite touch to the knife as a whole. This also gives the user better control over the knife while creating and setting spring snares and also makes it much easier to skin animals caught in those snares. You'll have particular fun while gutting trout and you'll realize for yourself why it's so much easier using this knife.
However, I have a few concerns with this knife being a pure survival knife because firstly its way too short in my opinion. I personally prefer my survival knives to be longer so that's why I feel that the Helle Temagami would be better suited as a companion tool to a larger and heavier survival knife. A longer, larger knife helps you cut and shape saplings much better for building shelter and personally, a longer blade also helps to pry off fallen material on your makeshift tent.
Also, I did face a few issues while building different kinds of traps for fish, squirrel and birds simply because of the above stated fact that you need a long heavy knife to cut and shape sapling for building such snares. The Temagami fails in that department and also I was not too particularly pleased with the narrow, flat ground bevel because it requires the user to create a deep secondary bevel when initially sharpening the knife in order to create a truly razor sharp edge.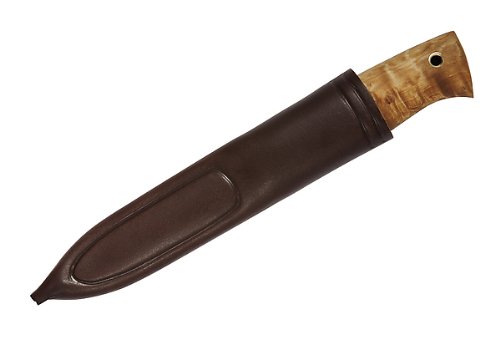 If only the initial bevel were to be ground a bit wider, then getting a true sharp edge would have become so much easier. And if you widen the initial bevel, then it tends to weaken the edge as well. However, that said, I don't see why widening the bevel would create a problem for the user simply because the knife itself is not too large to chop with and hence it won't limit the user's ability to carve and slice objects.
In addition, the Helle web site makes no mention of whether or not the maple burl used in the handle of the Temagami is stabilized (pressure impregnated with epoxy resin) and I can tell you from personal experience that non-stabilized wooden knife handles do eventually absorb moisture and swell somewhat. Also, the knife has a wooden handle which is not a particularly tough material when you compare it to other similar knife materials such as Micarta, Rucartca, Grivory, and Krayton.
All in all, it's a great knife to have with you but personally speaking from experience, I feel the Helle Temagami is better suited as a companion knife or a dedicated hunter knife simply because of its small size combined with the maple burl handle.