A lot of people are confused souls when it comes to buying a knife and especially because they don't even know where to begin their search. Believe me, I totally agree with them because with all the choices out there, it does become a really difficult task and that's really one of the reasons why I started this site to help people buy better survival knives.
Before buying any knife, the first thing you need to ask yourself is the purpose why you want to buy a knife in the first place. If your primary aim is to use it as a durable tool to do small tasks around the house, then simply any knife will do. You don't need to go in for expensive or hi-tech knives; a simple household knife is more than enough!
But if you're the more adventurous and outdoor types, who loves to go hunting and want to buy a good hunting knife or something that will serve as a potential survival tool, then you'll need to upgrade your search a bit and go in for better, higher quality knives. These survival knives tend to be a tad more expensive but believe me, when you out in the wild, you need a high quality survival tool by your side (I've covered some great, inexpensive survival knives in this post here)
My personal opinion along with other knife experts seems to be biased a bit towards survival knives that have a fixed blade, also known as full tang knives. Basically, a full tang means that the entire knife is one complete bit of metal as compared to a knife that has only a partial blade.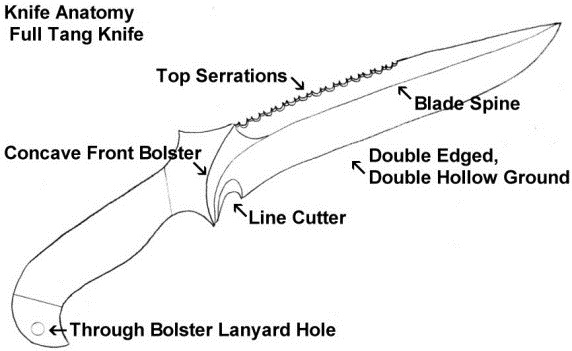 I've used both full tang and partial tang knives all through my life and given a choice, I'd always lean towards a full tang knife because they're sturdier and there's a less chance of breakage. Even the strongest partial tang knife does tend to give way as compared to a full tang and that's one of the primary parameters that you need to keep in mind.
Mostly I've seen people prefer partial tang over full tang based on price because partial tang knives are slightly cheaper than full tang knives. I would rather spend a few dollars more and opt for a full tang rather than have my knife blade be broken in the middle of wilderness!
Once you've gotten this dilemma out of the way, it's time to move onto other knife buying criteria such as choosing the size and shape of the handle, the right blade material (such as SS or carbon steel), the sheath material and the length of the knife blade. These factors are much easier to determine and choose and you shouldn't face much problem with all this.
So remember, the knife buying criteria starts of when you decide the purpose of our buying a knife. All other things will then fall into place by themselves and your overall process of buying a good knife will become all the easier and simpler.