One of my personal favorite American made survival knives happens to be the ESEE-4 that comes with a removable Micarta handle slab and also features a Kydex sheath with MOLLE locks. I'll try and do justice with this ESEE-4 survival knife review by recounting my personal experiences so that other survival knife enthusiasts can learn from it as well.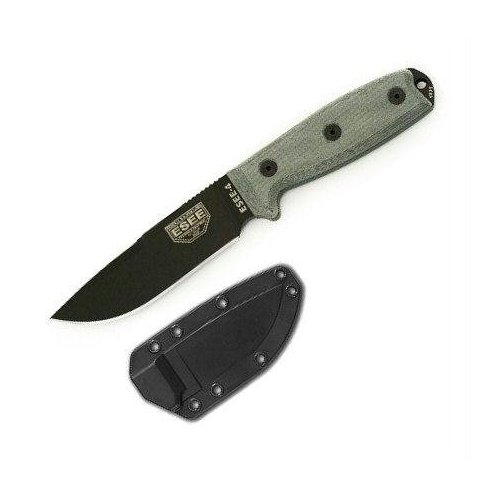 Click Here to See Pricing, Ratings, and Reviews on Amazon.com
Key Features of the Knife:
I'll start off with the sharpness because that's one of the key highlights of this knife. The ESEE-4 cuts through a lot of materials very easily mainly because it's made of tough 1095 high carbon 57 RC steel and the experts reading this know high good a material that is! Not only is it tough and sharp, I find it to be the perfect length (overall knife length is 9 inches while the blade length is 4.5 inches) and extremely comfortable to use. A perfect camping knife so as to speak!
Like I've mentioned earlier, the gray handle is a removable Micarta slab and this brings the overall knife weight to be just over 7 oz. Don't worry about damaging it easily because this beauty can take a lot of abuse. And although the blade is coated, you just need to be a little careful to prevent it from rusting. What I personally do is that I lubricate the blade with dry film rust and corrosion oil every 5-6 months which helps to keep the ESEE-4 in perfect condition. If you go to Amazon and read some customer reviews, you'll notice people complaining of rusting but if you try the little trick above, you won't be disappointed!
About the Blade and Sheath:
With a black RC-4 fixed blade (read my post on full tang benefits), the ESEE-4 survival knife comes in two variants – one having a plain edge while the other features a partly serrated edge (personally I prefer the plain edge). For those of you who love a good sheath along with your knife, you'll be pleased to know that this one has an additional MOLLE attachment while the sheath itself is held together by adjustable screws. I don't know exactly why they didn't use rivets but one senior camping guide told me this helped on getting a better grip.
The sheath itself is made of Kydex material and comes with a rawhide cord that ideally should be threaded by the user so make sure to do that once you purchase this knife. While the weight of the knife is just over 7 oz, the overall weight including that of the sheath is close to 13 oz which is quite decent for a bush-craft knife.
If you've been following my posts closely, you'll notice I'm biased towards full tang knives and that's one of the reasons why I bought the ESEE-4 in the first place because it's a fixed blade survival knife. All in all, I was very satisfied with this wilderness survival knife and have used it for various activities such as hunting and fishing.
Click Here to See Pricing, Ratings, and Reviews on Amazon.com
In Summary:
Some of you might find the cost to be on the higher side but with an average price tag of $125.00, I think this is one of the best bush-craft knives in the market at the moment. I also like the fact that this is covered by a lifetime warranty so if you somehow manage to break your knife accidentally, don't fret because ESEE will send you a new one straight away.
Overall, the ESEE-4 knife is a good buy and even though it's not the most perfect knife in the world, its a pretty damn good one! Not only is it easy to sharpen and maintain but its also an extremely rugged knife that holds its edge for a long time.