This post is dedicated to all the hunters out there and who agree with me that a skinning knife is an essential tool to have along with you in the wilderness. Although there are a lot of skinning knives out there in the market, finding the perfect skinning knife can be a bit of a challenge thanks to the numerous styles, the cost factor and the performance factor.
Just to give you an example, skinning knives come in a variety of styles such as ones with changeable blades to ones where the cost of the handle is more than the blade itself! The choice of a skinning knife again changes depending on whether you need to skin a deer or a rabbit or perhaps an even bigger animal.
That's why I decided to write this detailed and ultimate skinning knives review style post that will help you make a better informed decision. Listed below are my picks for the best skinning knives and these will help you in your hunting needs or even your basic survival need.
1. Lone Wolf Mountainside Skinning Knife
First up on this list of the best skinning knife is the Lone Wolf Mountainside Skinner and I do agree with the experts who say this knife is by far the most technologically advanced tool ever built for skinning.  Not only does it have a unique shape that you'll not find in any other knife, the precision quality on this skinning knife is unmatched in my experience.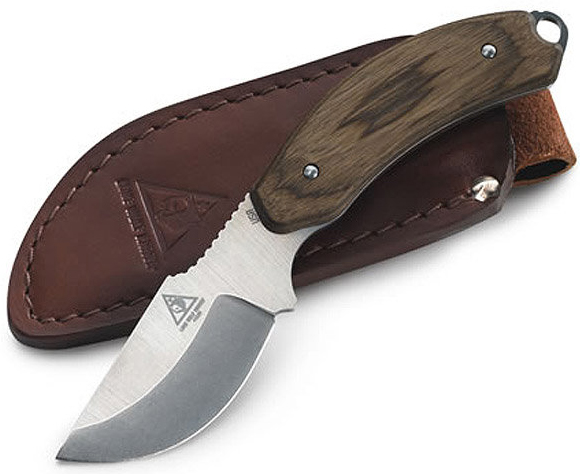 Comfortable to hold and use, the Lone Wolf Mountainside Skinner has a sleek, stylish look with steel blades that are designed to be corrosion resistant and ones that will stay sharp for a long time despite repeated usage. A lot of fellow hunters have also used and approved this knife so rest assured, this should be your first pick.
2. Havalon Baracuta-Blaze Skinning Knife
2nd up on this list of the best recommended skinning knives is another monster knife called the Havalon Baracuta Blaze (unofficially called the king of skinning knives). The Baracuta Blaze features the highest quality Japanese stainless steel blades and has an overall weight of just 3 ounces. Now that's impressive!
The length of the knife itself is quite big at an impressive 10 and 3/8 inches while the handle is made of a special material called ABS. This easily graspable material is thick enough to provide a good grip but does not add to the weight of the knife.

One of the big advantages that I personally found with this knife is that it opens up completely from the back and helps in easy cleaning. Also, it has thumb studs that work accommodate both left handed and right handed hunters and also comes with a removable pocket clip.
All in all, a great skinning knife to take along on your next adventure!
3. The Piranta-Whitetail
Moving on with this list and I give you the beautiful and stunning Piranta Whitetail knife. Don't be confused with its good looks; this pocket monster is incredibly tough and one dangerous knife that can handle any type of skinning thanks to its rugged blades. So if you're looking to skin the largest buck that you've ever seen, make sure you have this knife in your collection.
Not only is it incredibly light-weight (weighing approximately 2.2 ounces) but the Piranta Whitetail has very strong surgical blades while the handle itself is made of an aluminum alloy that allows for easy gripping. Thanks to the holster that it comes with, you won't have any problem carrying this beauty around.
One tip that I'll give you from personal experience is that you should always carry a lot of spare blades while doing big skinning jobs and the advantage of using this knife is that it comes with a dozen blades for easy changing.
4. Charles Sauer Skinning Knife by Meyercoandreg
And finally completing my list of the top skinning knives is the stylish Charles Sauer Skinning Knife by Meyerco that features the impressive G-10 handle. This 9 and 7/8 inch knife might look plain in its casing but don't let that fool you.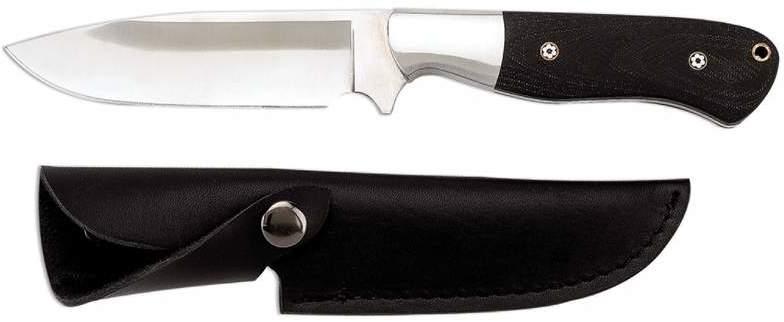 Although it doesn't have changeable blades but rest assured, you'll be able to skin big game without feeling the need to sharpening the knife. Since it comes with stainless steel blades, the Charles Sauer knife is corrosion resistant and offers great precision while skinning deer or rabbit. Another great part about this knife is that it's extremely affordable and is a great value for money skinning knife.