A Detailed SOG Flash II Review and Information
SOG is were well known manufacturer of knives.  Fixed blade, machetes, tactical tomahawks, folding knives, survival knives, etc.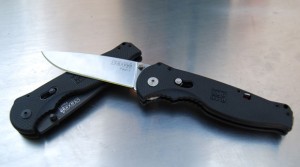 Personally I carry an SOG Flash II Tanto with serrations and black TiNi finish as my pocket EDC knife.  This is also known as model # TFSAT98-CP
One of the great aspects of this knife is the large combination of configurations available.  The SOG website lists all black handles with one digital camouflage option, but as you look around you will see blue, orange, and even yellow handled versions of this knife out there.  All of the knives appear to be available as either a drop point or tanto blade, straight or with serrations, and with deferent blade and handle color combos.
After doing this review, reading others, and looking at the knife's specifications, I am happy with my purchase and I plan to continue using this as my everyday pocket knife.
Scroll to the bottom for the detailed table listing all of the options available for this value packed knife.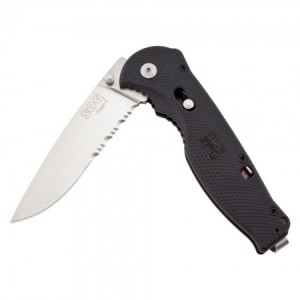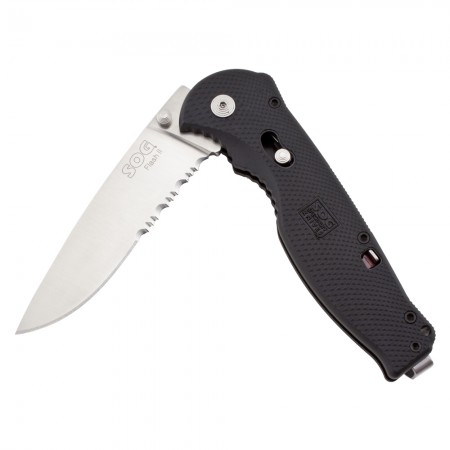 Click here for more details, pricing, and information on the SOG Flash II
Here is my SOG Flash II review:
SOG Flash II Specifications
Overall open length: 8″
Closed folder length: 4.5″
Product Weight: 3.10oz
Blade Length: 3.5″
Blade Thickness: 0.13″
Blade Steel AUS-8
SOG Assisted Technology
Even without the assisted opening technology, I would expect this folder to be buttery smooth.  But with it, opening the knife is very fast.  There is no question in your mind whether or not the blade is fully open and the lock is engaged.
The spring assistance helps to ensure that the knife is closed once you get to the 90% closed point, which also means that this helps to keep the knife closed.  The only problem I see with this is that it is very hard to do a flick of the wrist open that we all like to do with our broken in folders.  It is possible but you never get it on the first try.  So you pretty much have to use the thumb studs to open this.  The thumb studs themselves are very well designed and made – the terraced bevel really helps a lot.
Though far from being a switchblade, I am a fan of the assisted opening technology.
Not only does it make for easier opening, but it is a bit more fun to use as well.  The people you lend your knife out to will be impressed.
Blade Steel
The Blade is made of AUS-8 Steel, Hardness ratings for all blades are 57-58 Rockwell C.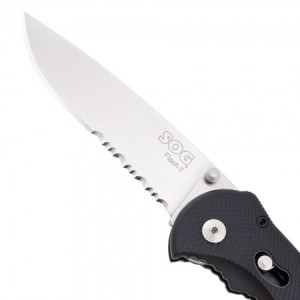 The sharpness of the blade is fine for my use and it has remained sharp through my everyday use.
From my investigations, AUS-8 is a good steel but not necessarily the best.
AUS-8 is a lot like the 440 stainless steel series and is made by Aichi Steel Corporation in Japan.  The difference from the 400 stainless being the addition of Vanadium which improves sharpening, toughness, and wear resistance.
Though using AUS-10 or 440C would be superior, This AUS-8 rolls in with a carbon content of 0.75%.
Read the Wikipedia page on blade materials
There is an available coating of black TiNi (Titanium Nitride) that protects the non-cutting edge part of the blade.  Not only does it look good, but it really does reduce the amount of wear on the blade.
Lock Mechanism
Of all the folding knives that I have used, the lock mechanism on the SOG Flash II is the best that I have seen.
I have used lock back (Buck Style), Liner lock, and piston lock knives.  By far I have more confidence in the piston lock than the other two.  Having confidence in your lock mechanism is an absolute requirement to be able to get the most out of any folding knife.
Even though this is a piston-lock mechanism, the actual lock-release slider must travel in an arc, giving it a small over-center or cam quality.  I my mind this helps a bit over a standard linear back-and-forth switch.
I give the lock mechanism a definite A.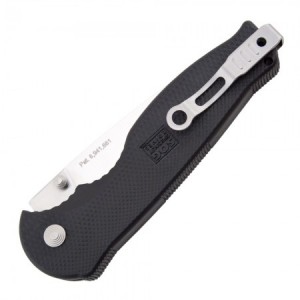 Click here for more details, pricing, and information on the SOG Flash II
Durability and maintenance
The version that I have has held up very well for the one year that I have been using it so far.  I purchased the tanto blade configuration because I like the precision edge that it gives you.  I make use of this for opening boxes and packaging where controlling the blade position and depth of cut is essential to a clean cut and preventing damage to the product inside.  I have not suffered any noticeable blade wear, dulling, or loss of straightness.  I also make use of the fine tip to get the blade into place that you might normally have to use side cutters for.   Here I have caused a small amount of edge 'flat spotting' by cutting a steel-core, plastic coated factory seal from a hitch pin.  Since there was only room for the tip I had to cut this by cleave the tie with brute strength, rather than using a slicing motion.  This is quite possibly the worst way to treat a blade and there is no wonder I have caused some blade imperfection.  Considering this less than ideal situation, the amount of flat spotting is acceptable and the blade has held up well.  I will try to work this off with the strop, and if it doesn't work I know that a brief session on my Spyderco Sharpmaker will do the trick.
If you are having trouble picturing this flat spotting, look directly at the edge of your knife.  You should see one fine edge.  If any light is reflected back at you, there is a flat spot on the edge and it is nowhere near as sharp as it could be.
I will give the blade durability a good review.  There has been no dulling at all other than the abusive incident above.
My Youtube SOG Flash II Review
A written knife review only goes so far, so I have started a YouTube channel to review the survival knives I get my hands on.
Available Configurations
| Model # | Blade Type | Blade Color | Handle Color | Serrations |
| --- | --- | --- | --- | --- |
| TFSA98-CP | Drop Point | Black TiNi | Black | Partial |
| FSA8-CP | Drop Point | Satin | Black | Straight |
| FSA5-CP | Drop Point | Tiger Stripe | Black | Partial |
| FSA98-CP | Drop Point | Satin | Black | Partial |
| DFSA98-CP | Drop Point | Black TiNi | Digi Camo | Partial |
| FSAT8-CP | Tanto | Satin | Black | Straight |
| TFSAT98-CP | Tanto | Black TiNi | Black | Partial |
| TFSAT8-CP | Tanto | Black TiNi | Black | Straight |
| FSAT98-CP | Tanto | Satin | Black | Partial |
Click here for more details, pricing, and information on the SOG Flash II
I hope you found this SOG Flash II review to be helpful.  I do recommend this knife to anyone looking for a lightweight and affordable pocket folding knife.
And don't forget to subscribe to my YouTube channel for bench top reviews, field tests, maintenance, and other survival knife discussions.