Whoever said that you need to spend big money to buy a high quality survival knife definitely needs to visit my site. After featuring the 10 best survival knives under $50, I think it's time to listen to my readers once again.
Based on your feedback and mails, I now know that a lot of you are searching for a mid budget survival knife that costs less than $100. In fact, one of the top knives that I've recommended in this category is actually available for close to 60 dollars and has received excellent rating from not just me but from a lot of other survivalists and outdoor enthusiasts.
Of course, if your budget allows you to spend more than 100 dollars, then you should definitely check my list of the top knives under $200 because that list also contains some amazing hunting/survival tools that are backed by great quality and honest reviews.
If you're the types who doesn't like to read much, then I would suggest that you simply go with my #1 choice for the best survival knife under $100 and trust me, you won't regret your decision.
Note – Although I've tried my best to list down all knives that fit into this price range (after discounts), there might be a slight possibility that the price fluctuates by a small amount. If you come across a major price change, do notify me via the comments form below.
#1 – KA-BAR Becker Companion BK2
I really can't recommend this knife enough because it really is that good. I've featured it numerous times on different sections of this website before as well and once again, it steals top honors in this category of the top $100 survival knives.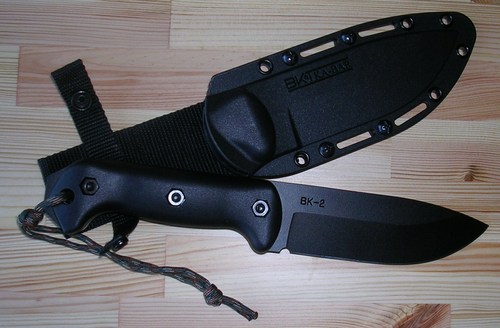 Click Here to See Pricing, Ratings, and Reviews on Amazon.com
With over 700 reviews on Amazon, this knife is the kind of popularity charts and rightly so because you'll fall in love with this knife at the first look. With a blade length of 5.5 inches and an overall length of 10.5 inches, you have enough room to use this in a variety of survival situations including cutting through thick foliage.
It's extremely good for skinning meat (I've done it on numerous occasions) and the 1095 Cro-van steel does the job perfectly. If you look at the overall quality and durability of the knife, you'd expect this to cost a bomb but that's the best part about this hunting tool – it won't hurt your pocket and you can grab it for just under $70!
Key Specs & Features:
Blade: 5.5 inch length, 0.25 inch thickness, 1095 Cro-van steel, Made in USA, 56-58 HRC
Handle: 5 inch length, glass filled nylon sheath
Weight: 14.6 ounces
#2 – Ontario 8630 RAT-3 Knife
Making its way to the #3 spot on this list of the best survival knife under 100 dollars is the pretty well know Ontario 8630 RAT-3. This 3.75 inch long partially serrated tool has been with me for over a year now and is another high quality knife from the Ontario Company.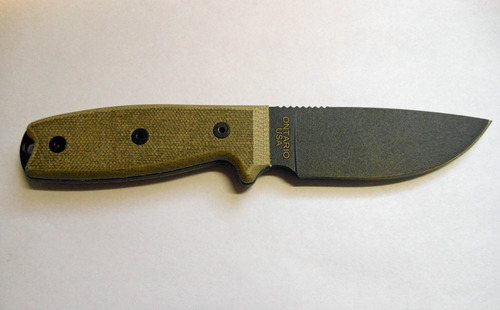 Click Here to See Pricing, Ratings, and Reviews on Amazon.com
Designed by the Randall's Adventure and Training people, the RAT-3 is a well balanced and solid knife with a slightly thicker blade as compared to previous RAT models. This one's made from 1095 steel so there's absolutely no concern about its long life.
One thing to know beforehand is because this is more of a rugged knife, you won't find it extremely razor sharp out of the box and you might have to re-profile it slightly. Another good thing is that it comes with a BladeTech Tek-Lok clip which means that you're already saving close to $15 on the whole.
Key Specs & Features:
Blade: 3.75 inch partially serrated blade, 0.125 inch thickness, 1095 carbon steel, 55-57 HRC
Handle: 4.03 inch closed length, Lanyard hole and nylon sheath, canvas micarta scales
Weight: 5.3 ounces
#3 – Gerber 22-01874 Mark II
First made in 1966 and one of the best selling survival tools of all time, the Gerber 22-01874 Mark II is another one of my favorite companions in the wild. This beauty features a 420 HC stainless steel double-serrated blade that's coated with black oxide and screams class all the way.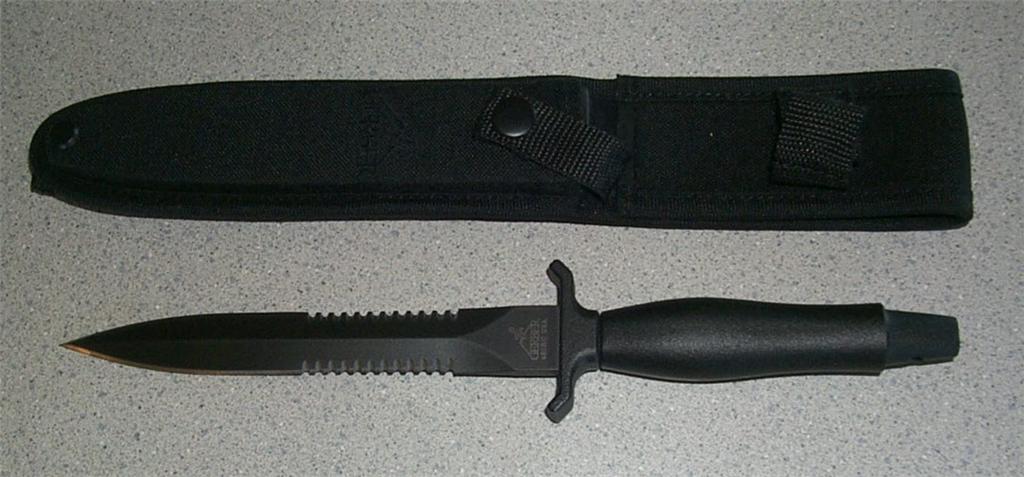 Click Here to See Pricing, Ratings, and Reviews on Amazon.com
The die cast aluminum handle is a treat to hold and this 6.5 inch full tang blade comes equipped with a ballistic nylon sheath. It truly is one of the best combat knives in the world and not only does it have a strong point and sharp blade, I've not come across a knife that has a better spike pommel .
This quintessential Vietnamese era fighting knife will surely bring alive a memory or two among those who served in the war. Make no mistake about it; this is a pure fighting knife that Gerber has made some modifications on (blade serrations) to fit into the "survival niche". At less than $100, this is your chance to own a classic!
Key Specs & Features:
Blade: 6.5 inch length, 420 HC stainless steel, 51-53 HRC
Handle: 6.25 inch length, ballistic nylon sheath, die cast aluminum handle
Weight: 8 ounce
#4 – Gerber LMF II Infantry Knife 22-01629
One of the few great push tang knives around, the Gerber LMF II is another worthy contender on this list. It comes with an insulated handle and there's a bit of mythical history behind the reason (apparently, it was used in Afghanistan to cut an electrically live wire that powered insurgent search lamps).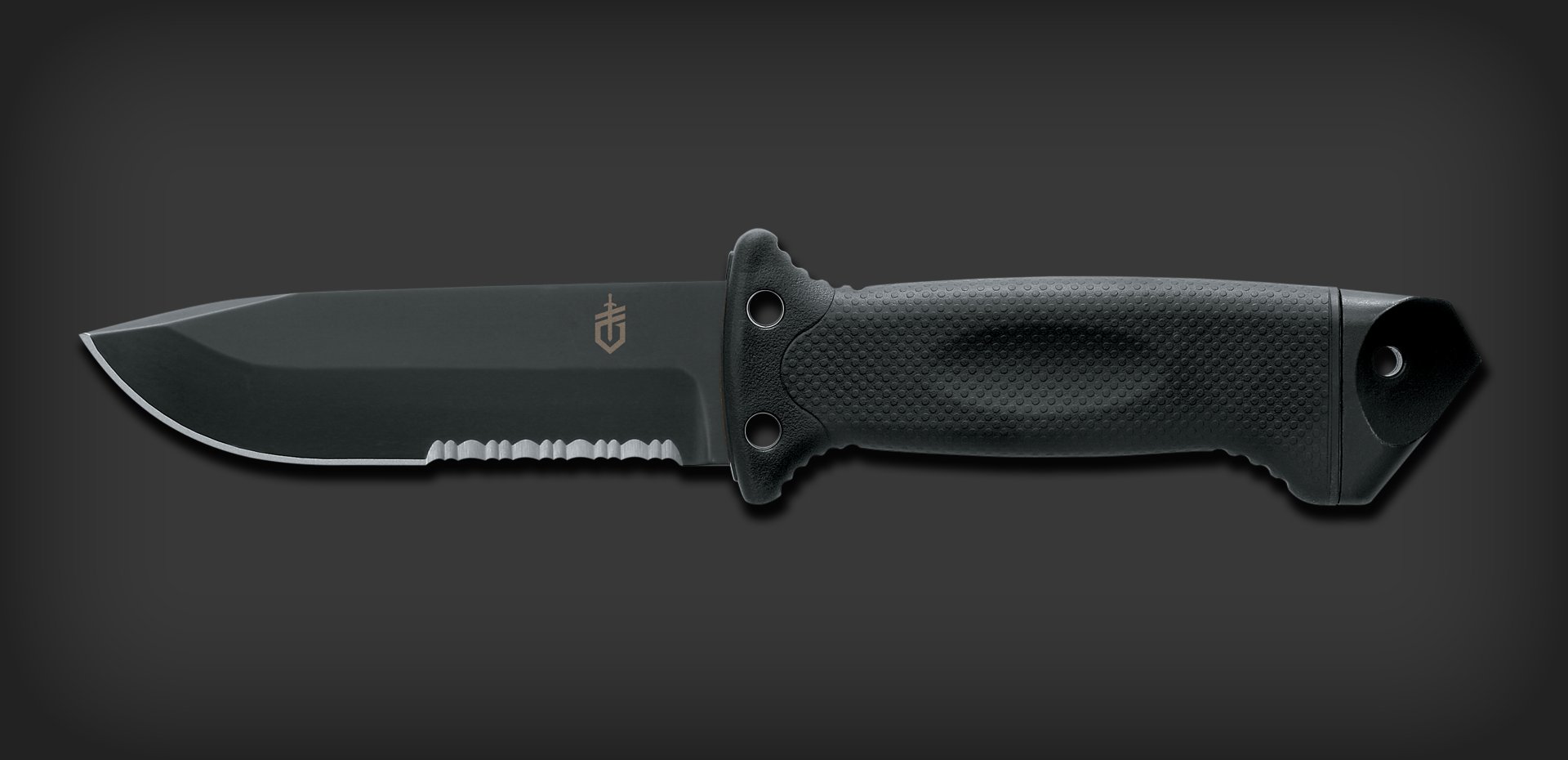 Click Here to See Pricing, Ratings, and Reviews on Amazon.com
Also, for those who prefer Made in USA tools, this one is pure home made in Oregon and is made from 420HC stainless steel (the original model used to come in 12C27) which means there is hardly any chance of corrosion.
It's easy to sharpen and holds it edge very well and in fact, has a sharpener built into the sheath although you'll only be able to sharpen the non-serrated part of the blade. The knife can also function as make-shift hammer and I've even used it as a spear on some occasions thanks to the three holes (one in the butt and two on the guard).
All in all, an excellent choice for a knife costing less than 100 dollars and combined with Gerber's outstanding customer service, this one's a no-brainer.
Key Specs & Features:
Blade: 4.84 inch length, 420HC Stainless Steel, 59-61 HRC
Handle: 5.75 inch length, MOLLE Compatible sheath, lashing holes
Weight: 11.6 ounces
#5 – Boker Plus Vox Rold Knife
Not many of you would have heard of the Boker Plus Vox Rold Knife but trust me, for less than $100, it's one of the best camping and survival knives out there in the market. Designed by the famous Danish designer, Jesper Voxnæs, this full tang, flat ground blade gives an excellent cutting performance and has great edge stability.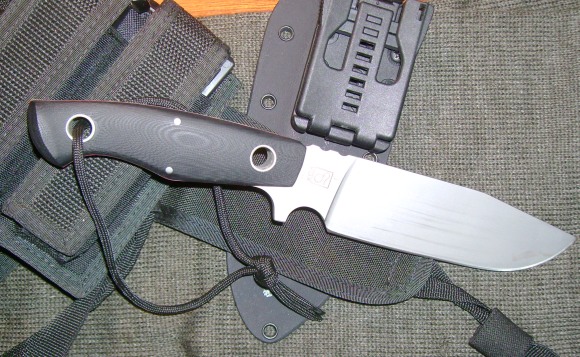 Click Here to See Pricing, Ratings, and Reviews on Amazon.com
You'll notice large hollow pins on the handle and they can be used to in conjunction with a stick to prepare a make-shift spear. I also loved the black G-10 handle scales that have an excellent swell and allow you to put serious pressure on the knife without leading to hot spots.
So whether its precise cuts or chopping through wooden limbs, the Boker Plus won't disappoint you and all in all, a great recommendation from my side.
Key Specs & Features:
Blade: 6 inch length, 0.1875 inch thickness, D2 tool steel blade with flat ground,  56-57 HRC
Handle: 5 inch length, G-10 scales with lanyard, Kydex sheath
Weight: 10.5 ounce 
#6 – Cold Steel SRK with Kraton Handle
We're halfway through this list of the best knives under 100 and the Cold Steel SRK makes its way in at #6. A great rescue knife made from AUS 8A stainless-steel, this is also one of the best 6 inch survival knives in the market at the moment.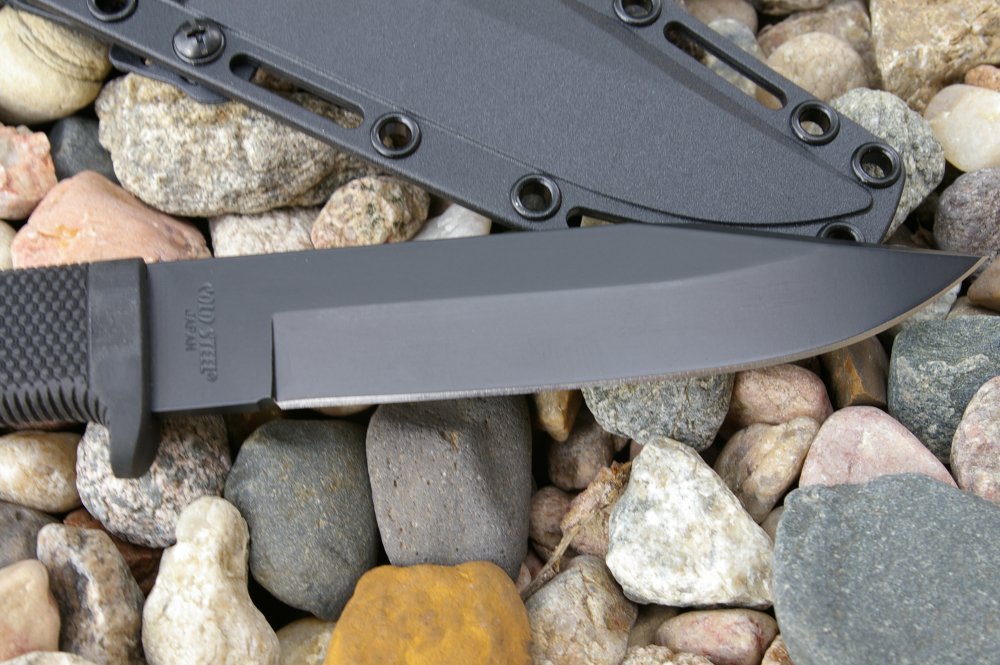 If you're a fan of tools that keep the weather elements at bay, then this one with its Teflon coating will seem like a boon to you. I personally loved the strong clip point blade that has enough belly for efficient cutting, slashing, and skinning strokes and yet is equally good when it comes to delicate work.
The sheath is a Kydex one and is tough, flexible and solvent resistant. Also, the handle is extremely comfortable and not slippery at all and overall has a great balance.
All in all, a very good knife considering the price point and if I were in your position, this one would be on my buy list for sure.
Key Specs & Features:
Blade: 6 inch length, 0.1875 inch thickness, AUS 8A stainless steel, 54-57 HRC
Handle: 4.75 inch length, Secure-Ex kydex sheath, Teflon coating
Weight: 8.2 ounces
#7 – SOG Specialty Knives & Tools E37T-K Seal Pup Elite
One of my favorite companies is SOG Specialty Knives & Tools and I've always been impressed by the quality of knives made by them so it's really no surprise to see me including the SOG E37T-K Seal Pup Elite on this list.
One of the lightest fixed blade knives that I've worked with, the SOG E37T-K Seal Pup Elite with its 4.85-inch AUS-8 steel blade is a backpacker's delight. It's sharp out of the box and you need to be a little careful with the serrations else you'll end up cutting yourself easily because with this specially cryogenic treated survival tool, you're getting proven steel with excellent edge holding capability.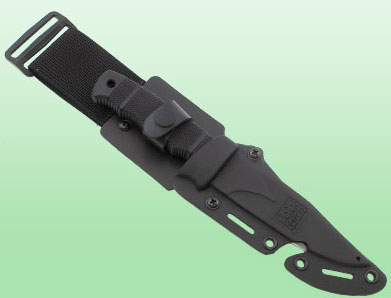 It's a Bowie design with enough of belly and a long, sweeping edge. I've personally used it to chip a lot of branches as well as baton a lot of thick firewood for kindling purposes and the knife has still not lost its edge in more than a year.
With an impressive Zytel handle and Kydex sheath to go along with the knife, this one's a bargain at the price it's available at!
Key Specs & Features:
Blade: 4.85 inch length, 0.185 inch thickness, AUS-8 steel with clip point shape, 56-57 HRC
Handle: 4.375 inch length, black glass-reinforced nylon handle, black Kydex sheath with a belt loop attachment
Weight: 5.4 ounces
#8 – KA-BAR USMC
I originally featured this as my top pick for the best survival knife under 50 dollars but a lot of readers pointed out that the price had increase to around $57 so technically, I can include it in this list as well. The KA-BAR US Marine Corp Knife is one of the most famous knife designs in the world and features a 1095 Cro van steel blade.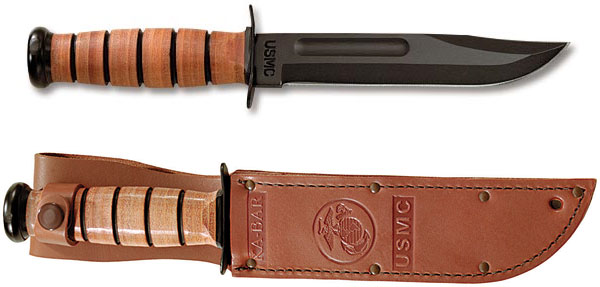 The 7 inch blade is a delight to work with and overall, the balance of the knife is perfect. I love the leather stack handle as it gives me an excellent overall grip and you'll appreciate that once you do a lot of skinning and dressing work with this.
Moreover, this tool has received over 600 other 5 star ratings on Amazon so clearly this one's a favorite with the community.
Key Specs & Features:
Blade: 7.0 inch length USMC stamp, 0.24 inch thickness, flat grind, 1095 Cro-van steel, 56-58 HRC
Handle: 4.8 inch length, leather handle
Weight: 11.2 ounces
#9 – Ka-Bar 2-1282-6 D2 Extreme
We're almost to the end of this list and in at #9 is another Ka Bar favorite of mine, the Ka-Bar D2 Extreme. It's made from D2 steel, considered one of the strongest and toughest materials used in knife making and easily beat the 440C in toughness and edge retention.

A lot of people simply associate this as a "fighting" knife but the truth is, this knife also makes for a great camping/hiking tool. Whether it's prying or cutting or hammering, this knife can do it all and one of my friends has even used it as a pry bar on the vertebra without it chipping on the bone!
It comes with a hard nylon Kydex sheath and is a great help especially when used in wet conditions. All in all, definitely recommended from my end!
Key Specs & Features:
Blade: 7 inch length, 0.165 inch thickness, D2 steel blade, Made in USA, 59-60 HRC
Handle: 4.875 inch length, Kraton G handle, hard nylon Kydex sheath
Weight: 12 ounces
#10 – Buck 119BR Special Fixed Blade Knife
And finally, last up on my list of the 10 best survival knives that cost less than 100 dollars is the Buck 119BR Special Fixed Blade Knife.
This one's been in production since the last 47 years and is one of the most popular fixed blade tools in the market right now. With a 6 inch blade length, this 420 HC stainless steel hunting knife is ideal for cutting and piercing work.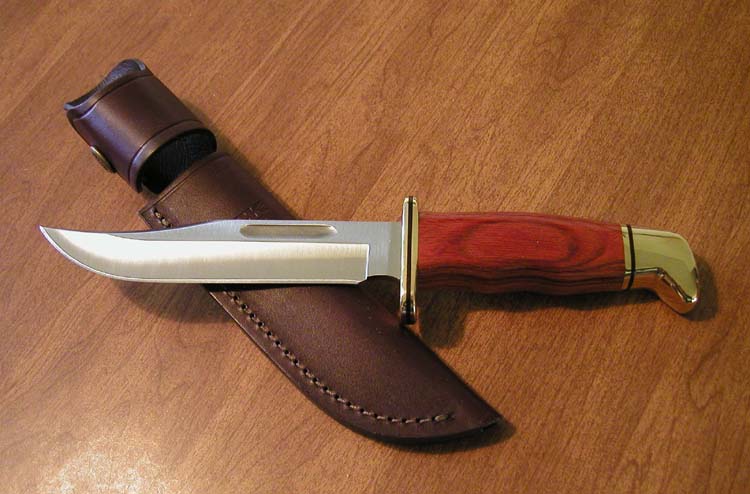 I love the classic design of this beauty and the blade is super sharp right out of the box. I've even run numerous corrosion tests on this one and it has performed flawlessly in all of them. Often you'll hear other survivalists saying good things about Buck's attention to detail and workmanship but only once you use a Buck knife, do you realize how true it is.
For all those who're still dilly-dallying about purchasing this knife, I can vouch for it from personal experience.
Key Specs & Features:
Blade: 6 inch length, 0.1875 inch thickness, 420HC stainless steel, 57-59 HRC
Handle: 4.5 inch length, Cocobola handle with brown leather sheath
 Weight: 10.5 ounces
More Survival Knives Under $100?
Phew! It was pretty difficult to feature just 10 of the top knives on this list from so many great options available so there's a chance that I might have missed out on a great blade that costs less than $100 and hence, should have made the cut here.
If that's the case, do let me know via the comment form below and whenever I update this list of the best survival knife under 100 every few months to include newer and better knives, I'll make sure that I take your choice into consideration.