Searching for a true military-grade survival knife?  Read my detailed Gerber LMF II review.  
Originally designed for air crew survival, the Gerber LMF II is one of the finest military grade survival knives in the market and can be used in a variety of situations ranging from outdoor camping to surviving in the wilderness to even war fighting! And the best part is that it doesn't even cost much but more on that later.
LMF II Construction and Configurations
Since the key component of any good survival knife is the blade, the folks at Gerber put a lot of thought into it and that's why the LMF II features a 420HC stainless steel blade that not only has an extremely sharp edge but is also highly resistant to corrosion. This makes this survival knife one of the best choices for an outdoor knife.
The knife also features a drop point blade design and thick spine which together combine to lend a great deal of strength to the blade. Also the blade is partially serrated which means that it is much more suited to cutting through ropes or branches and this gives the Gerber LMF a great deal of flexibility in a survival scenario.
Unlike some other similar knives in which the handle is not very strong, the LMF II handle is very strong and highly durable thanks to a material called Zytel which is essentially a glass filled nylon. Around this handle is a layer of TPV or thermoplastic vulcanizate which makes the handle extremely resistant to extreme temperatures and that's the main reason why you'll always have a good grip on this knife irrespective of weather conditions.
The Gerber LMF II comes in 3 different models namely the Infantry, Survival and ASEK.  All three knives are essentially the same except for the accessories and handle colors but more on each model later in this review. Also the ASEK stands for Aircrew Survival Egress Knife
This handy survival knife features a ¾ tang and if you read my detailed post on "What is a Full Tang", you'll find out that a longer tang leads to higher blade strength. You might then wonder why this knife does not have a full tang since that would obviously mean higher strength. The reason why Gerber made this a ¾ tang knife is because this was originally designed for air crew survival, it had to be insulated to prevent electricity shocks and a full tang just wouldn't serve that purpose.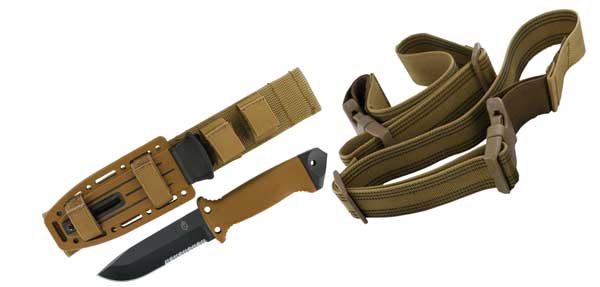 Another great feature that I personally liked about this knife was that the sheath comes included with a V-type knife sharpener.  Not only does it help keep a fine edge on the knife at all times, it's also very convenient to access and use.
Variations of the Gerber LMF II
This knife not only comes in the standard form but also has 3 variations called the Infantry, Survival and ASEK.  Although functionally all three models are the same, the difference lies in the accessories that each model comes with.
For example, the infantry model comes with only the sheath while the survival model is equipped with a strap cutter in addition to a nylon sheath.  However, my personal favorite is the ASEK but unfortunately, it's only available to law enforcement and military customers and I was able to get one via an uncle who's now retired from the military. The ASEK has an infrared reduction functionality which basically reduces the IR signature of a soldier evading enemy surveillance. I know it's not of any practical usage in peace time
Summary
To sum up this Gerber LMF II review, I'd give it a 4 star rating out of 5 as it really is a great survival knife for outdoor situations. Not only is this knife of a super high quality, it doesn't cost much as well which means that this is one knife you shouldn't miss especially considering the fact that it's also covered by a Gerber lifetime warranty offer!