A Brief History of Cold Steel Inc.
One of the most prominent survival knife manufacturing companies these days is Cold Steel Inc that was founded over 30 years ago in 1980 and over the past 3 decades, it has managed to create a mass following within the knife industry thanks to its innovativeness.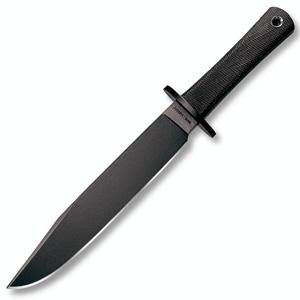 These innovations include introduction of the American Tanto point blades to the checked Kraton handles which have slowly become the standard for quality, sophistication and design within the knife industry. They also managed to pull off a great coup with the introduction of the "Tri Ad Lock" mechanism for folding knives along with introducing us to new steel blades such as the immensely popular "San Mai III". This just goes to show the high standards that the company has set for itself and its competitors.
Introduction to Cold Steel SK-5 Trail Master:
Throughout the last 3 decades, Cold Steel has stuck to its main philosophy of making the highest quality and sharpest, strongest knives and the initial Cold Steel SRK was a testimony to their hard work. And based on the same design philosophy, the company then introduced us to the SK-5 Trail Master.
The Cold Steel SK-5 Trail Master has been designed to withstand the most extreme conditions under maximum stress and abuse.  A large, heavy duty knife, the Trail Master comes combined with a shock absorbing handle design that is extremely helpful while chopping down small trees and clearing foliage.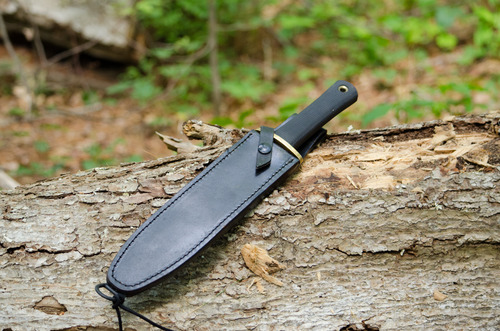 I personally use it a lot as an exclusive outdoor survival knife and with an overall length of 14 and a half inch, this one fits very nicely in my hand. The blade length itself is large at about 9.5 inches which I think balances beautifully with the overall weight of the knife. I chose to buy this with the SK-5 high carbon steel but you also have the option of purchasing this with the VG-1 San Mai III stainless steel (which will cost you a bit more).
The Design – Handle, Steel & Finish
Another great thing that I like about this survival knife is that it has a flat ground bevel along with a deeply checkered Kray-Ex grip which makes it extremely comfortable to hold. The grip has short, double, quillions made from a single brass oval which go very well with the overall full tang knife construction. The knife also includes a well designed Secure-Ex sheath.
Cold Steel has a state of the art factory in Taiwan that manufactures these knives which ensures that they are precision ground, heat-treated and Mar Tempered and meets the exact quality of the famous Japanese swords.
As for my opinion of this knife as an outdoor survival tool, I believe that I have mentioned previously my fondness for the clip point Bowie blade shape for this particular purpose since I believe it to be the most versatile blade shape I have used in the field to date (I have yet to try a fixed blade spear point shape).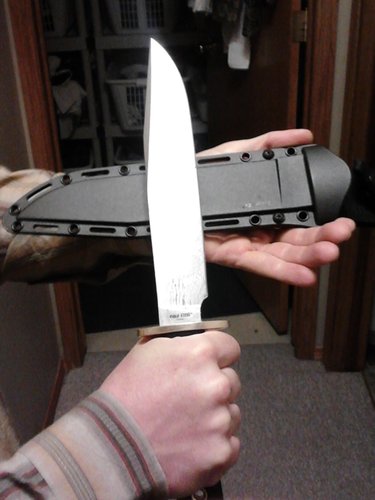 The fascination and liking for long, slim Bowie style blades is what makes me a big fan of the Cold Steel Trail Master. I love the overall expert craftsmanship and construction of the knife and this makes it one of the most graceful knives I've ever laid eyes on (although you do need to be careful of the counterfeits out there so a safe bet is to always buy this via Amazon)
Along with the A.G. Russell Camp Knife (that has a drop point blade and a re-curved edge), the Cold Steel Trail Master is currently my number one choice for full tang survival blade knife. The SK-5 steel used in this knife has a high carbon steel content of 0.81% and 0.75% of magnesium content which makes it very strong and able to handle large duress.
The carbon content and lean alloy make this a shallow hardening steel with a quenched hardness between RC 60-64 depending on exact carbon content. This combination of factors makes this one of the toughest steels available because, when quenched properly, it produces a near saturated lathe Martensite with no excess Carbides, avoiding the brittleness of higher carbon materials.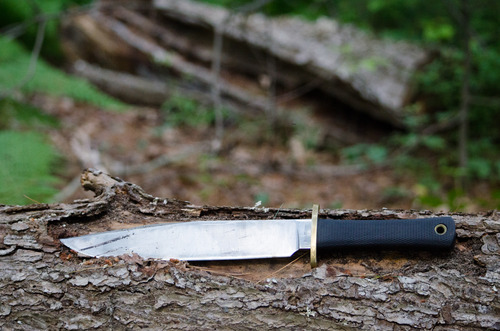 Thanks to the above properties, you're best equipped using this survival blade where strength and resistance to impact is needed. This does not mean that the Cold Steel SK-5 doesn't have an edge holding capacity – it does that extremely well thanks to the RC 57 Rockwell hardness.
Like I mentioned earlier, the 9.5 inch blade has pretty thick spine (5.16 inches) while the flat ground bevel along with the long, straight, edge and very small ricasso make this blade design an excellent choice for both light chopping tasks and fine carving tasks. Personally speaking from experience, the sweep at the blades' has just enough jelly that makes this a good skinning tool as well. (Read my detailed post on ultimate skinning knives)
And finally, the deeply checkered Kray-Ex handle material is very comfortable to hold, provides a positive grip when wet, and absorbs shock with chopping with the knife. In addition, this knife includes a Secure-Ex (Kydex) sheath which, like the handle material, is impervious to water and is very tough.
In fact, my only complaint with this knife is actually a very small issue in that Cold Steel incorporated a brass quillion instead of stainless steel one and, while it is true that brass will not rust, it will tarnish. So, unless it has a very high tin content (brass is made from alloying copper and tin), you will have to polish it often to keep it from turning green.
In Summary:
This has been quite a lengthy, detailed and technical review but to sum up all things so far, the Cold Steel SK-5 Trail Master is indeed one of finest survival knives out there at the moment. It gets full marks from me for having an ideal long, slim, clip point but considering the toughness of the steel along with its huge shock absorbing capacity, this one's a winner all the way.
So if you're thinking about buying a good knife that absorbs shocks well and is impervious to the various weather elements, then you can definitely count on the Cold Steel SK-5 Trail Master to be there at your side and perform amazingly well.